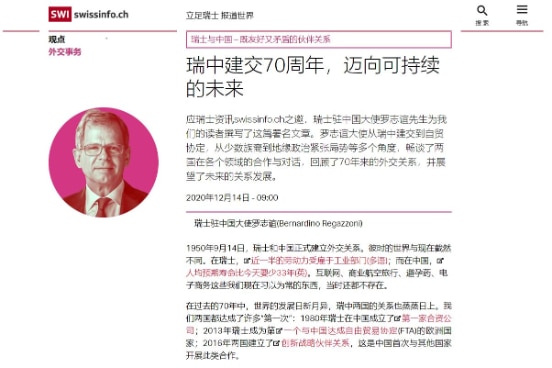 On September 14th, 1950 the day that Switzerland and China formally established diplomatic ties, the world was an entirely different place. In Switzerland, nearly half of the workforce was employed in the industrial sector; while in China, a person could expect to live 33 years less than today. The conveniences we now take for granted – the internet, commercial air travel, birth control pills, e-commerce– did not exist.
Over the last seven decades, the world has made great strides – as has our relationship. Our two countries have achieved many 'Firsts': the first Joint Venture in China in 1980; the first European country to conclude a Free Trade Agreement (FTA) with China in 2013. In 2016, the two countries entered into an Innovative Strategic Partnership, the first of its kind between China and a foreign country.
While our countries may differ in culture, size and governance, Switzerland and China also benefit from each other. The Free Trade Agreement is perhaps the greatest achievement of the past decade. In 2017 alone, it created over 100 million CHF in savings for both Swiss and Chinese exporters, reinforcing the position of China as Switzerland's 3rd trade partner, after the European Union and the United States. Reciprocally, Switzerland is now China's 10th foreign supplier.
Our relationship has been strengthened by collaborations in other areas as well. We count over 200 partnerships between Swiss and Chinese universities. The Swiss Development Cooperation has partnered with China since 2009, in domains ranging from clean air to zero-emissions buildings. Numerous artists, musicians, designers and architects have acted as cultural ambassadors between our two countries; famous Swiss architects, such as Mario Botta, Jacques Herzog and Pierre de Meuron have designed iconic buildings in China; and China's rich cultural heritage, from the of Qin terra cotta warriors to Chinese contemporary art have been warmly received in Switzerland.
At 70, it is important that our relationship, despite its maturity, stays dynamic and innovative. This means not just to exchange on technology, but also find new and "innovative" ways to engage. While we look back with pride on this platinum anniversary, it is, above all, an opportunity to look forward. How will Sino-Swiss relations evolve in the coming decades? Three trends come to mind.
Firstly, for both countries, sustained economic growth will depend on the ability to innovate. In this regard, both China and Switzerland are uniquely positioned. Switzerland systematically ranks amongst the most innovative countries in the world, with its renowned research institutions, strong promotion of the start-up sector and ability to attract world-class talent. China, on the other hand, has leapfrogged obsolete technologies time and again, and is able to roll-out innovations and an unrivalled speed and scale. Switzerland will continue to promote the necessary framework conditions for innovation, both at home and abroad. This includes maintaining open market access, a steadfast regulatory environment, and the impartial enforcement of regulations and intellectual property rights, along with continued investment in human capital and research excellence.
Secondly, as with any successful relationship, each side must stay true to themselves. Where we have disagreed in the past, respectful but frank discussions have taken place, and ultimately strengthened the foundations of our relationship. Switzerland regularly holds dialogues – both bilaterally and in multilateral fora – on values that it holds dear: minority rights, democracy and press freedom, for example. Switzerland takes no sides in geopolitical tensions but will always advocate for the respect of the universal rights our common humanity demands. In this regard, Switzerland is very worried about current developments in Xinjiang and Hong Kong and continues to raise these concerns in meetings with Chinese counterparts, most recently at our bilateral political dialogue in November.
Finally, the global challenges we face together will require global cooperation. This year has re-confirmed the need for solutions at scale, not only in health, but also in environment. Switzerland, as China, pledged commitments to reduce carbon emissions in the Paris Agreement in 2015, and committed, the same year, to achieving the Agenda 2030 Sustainable Development Goals. While the world will need to rely on technological progress to achieve these targets, policy, infrastructural and behavioral changes are also required. This is why, Switzerland will continue to advocate for a strong multilateral system, as well as contribute public funding and specialized knowledge to sustainability initiatives. Switzerland's innovative private sector will also continue to play its part in providing environmentally-friendly technologies and solutions.
As I look back to the 70 years of diplomatic relations between our two countries, I am struck by the vision and audacity of my forbearers. The seeds they once planted have now borne extraordinary fruit. It is my sincere hope that future generations of Swiss and Chinese will continue to build on this relationship, achieving successes none of us could have dreamed of today.