Consulate General of Switzerland in Hong Kong

COVID-19
On 18 March 2020, the Swiss Federal Council decided, that entry at the Schengen external borders is generally prohibited with few exceptions. Switzerland follows the practice of the other Schengen states. Until further notice, Switzerland is in general not issuing Schengen visas anymore. Schengen Visas with territorial restrictions will only be issued in exceptional cases, to specialists from the health sector for example.
Easing of restrictions from 8 June
From 8 June, the following measures will come into force for stays of more than 90 days (national visa D):

Applications to employ workers from third countries will also be processed again. Admission will be possible if the work assignment is in the public interest and, for example, is necessary to the national economic supply, or if a company urgently requires this skilled labour from an economic perspective and the work cannot be postponed or performed abroad.
Family reunification will be possible again for all persons with a permanent residence permit, a residence permit, a short stay permit or who have been temporarily admitted to Switzerland, under the usual conditions.
School pupils and students will be allowed to enter Switzerland to begin, continue or finish their studies, regardless of their nationality. This does not apply, however, to education and further training lasting less than 90 day
Please make an appointment with VFS Global to submit your national visa D application at our representation.
For additional information, please consult the webpage of the State Secretariat for Migration SEM.
If you have further questions regarding visa matters please contact us via: hongkong.visa@eda.admin.ch
In case of emergency, Consular services (not for visas) remain also available outside office hours:
Helpline FDFA: +41 800 247 365 or +41 58 465 33 33
helpline@eda.admin.ch
The Consulate General of Switzerland in Hong Kong
This Consulate General is Switzerland's official representation in the Special Administrative Regions of Hong Kong and Macau. Its activities are based on the five foreign-policy objectives defined in the Swiss Federal Constitution. The Consulate General namely undertakes endeavours in order to:
safeguard the interest of the Swiss economy
relieve need and poverty
create respect for human rights and promote democracy
promote a peaceful coexistence among people
preserve the natural environment
The Consulate General of Switzerland acts as general mediator between this consular district and Switzerland and spreads information about Switzerland to the Chinese public and authorities. It is furthermore an important link between Swiss nationals in Hong Kong or Macau and the authorities at home in Switzerland. Functions that are carried out in Switzerland by local authorities (issuing passports, determining voting rights, registration of its citizens and more) are in this Consulate's responsibility – as is the protection of the rights and interests of Swiss nationals in the event of an accident, arrest or other emergency situation.
The Consulate General of Switzerland in Hong Kong currently employs a staff of 10 persons. It is headed by Mr Rolf Frei.
President of the Swiss Confederation Simonetta Sommaruga: National Day 2020 greetings for the Swiss abroad
© UVEK / swissinfo.ch
Mission 1st August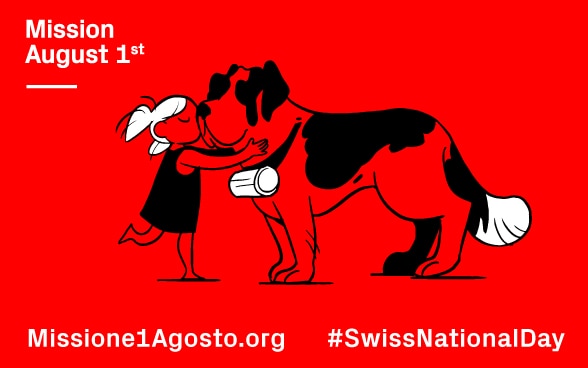 1st of August is the Swiss National Day! Unfortunately, due to the third wave of COVID-19 in Hong Kong it will not be possible to get together to celebrate it. However, we will be celebrating 1 August with a virtual programme! The celebrations will take place on a global digital celebration platform especially designed by Presence Switzerland – Mission August 1st – for all the Swiss living abroad and it will include a wide range of programme from yodelling classes, music, quizzes to a live social media feed to share how you are celebrating at home.
The Consulate would like also to launch a competition: send us your pictures of how you celebrated the Swiss National Day at home. The pictures with the three most innovative ideas will receive a prize. We would also like to publish some of your pictures to our Facebook page. Get creative and send the pictures to the following e-mail address by the 7th of August hongkong.socialmedia@eda.admin.ch
Typhoon Warnings
Please note that once the typhoon signal #8 (or higher) is hoisted, the Consulate General of Switzerland remains closed.
For further information on tropical cyclones please visit:
Links
German Swiss International School
Please note that Swiss nationals have priority in the two above mentioned schools for the German respectively the French stream only but not for the International streams.
Documents