Gender equality and Women's rights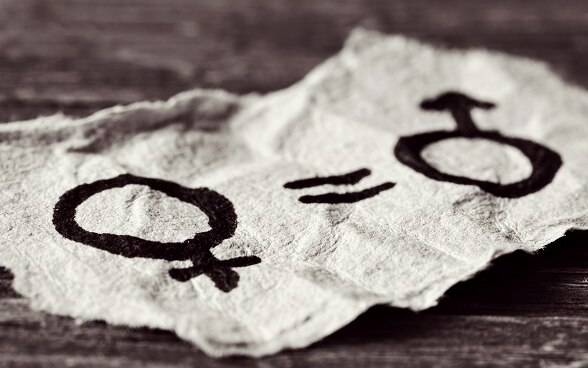 Gender equality, respect for women's and girls' rights, and the prohibition of all forms of gender-based discrimination: these fundamental Swiss values are firmly enshrined in our legal and constitutional framework.
The International Day for the Elimination of Violence against Women is being observed this year, as every year, on 25 November, reminding us that efforts to ensure respect for the rights of women and girls remain vitally important.
Violence against women manifests itself in many forms and various areas. The International Day marks an opportunity to draw attention to the issues of domestic violence, sexual abuse, rape, female genital mutilation, forced marriage, sexual harassment, human trafficking, gender-based violence in conflicts, access to justice, and feminisation of poverty . These issues are also integral to Switzerland's long-standing efforts to help eradicate these forms of violence and strengthen women's rights in general.
The damage that violence against women and girls inflicts on victims has an impact on society as a whole. It has short- and long-term consequences for their health, in particular their sexual and reproductive health, and for their ability to exercise their basic human rights. It is also an obstacle to women's economic and political empowerment.
According to the World Economic Forum, at the current rate of progress it will take another 100 years to close the global gender gap and 217 years for disparities in the world of work to end. We cannot afford to ignore these gaps.
The FDFA Strategy on Gender Equality and Women's Rights aims to strengthen Switzerland's efforts in this area. It contains thematic priorities and is also designed to integrate gender equality and women's rights throughout Swiss foreign policy. One of the objectives of the strategy is to combat all forms of gender-based violence.
Switzerland reaffirms its long-standing commitment to gender equality and women's rights.
Nepal: the SDC helps to combat gender-based violence in Nepal
On 25 November, International Day for the Elimination of Violence against Women, the Parliament Building will be lit up in orange, the colour chosen to symbolise the day.
Promoting and implementing gender equality in the OSCE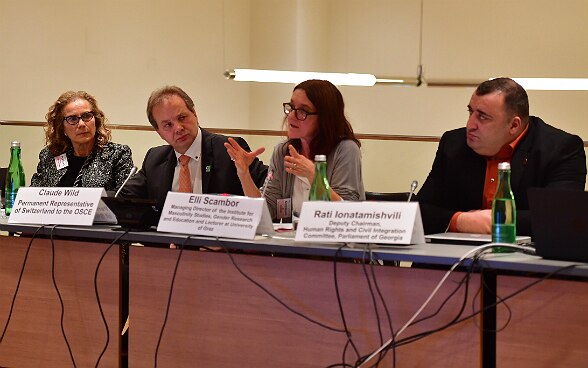 "In order to achieve true gender equality we need to address the harmful gender stereotypes that perpetuate discrimination against women and girls. The OSCE as the largest regional security organization worldwide offers a unique platform to address gender inequality in a comprehensive way: by strengthening women's involvement in the politico-military, in the economic and environmental as well as in the human dimension of the OSCE. Switzerland works very closely with the OSCE structures and institutions in order to raise awareness and strengthen the involvement of men and boys in promoting gender equality and effectively combating violence against women."
Ambassador Claude Wild, Permanent Representative of Switzerland to the OSCE, the United Nations and to the International Organizations in Vienna
As part of the OSCE's MenEngage Expert Meeting, Switzerland is hosting a performance of 'MachoMen' by a theatre ensemble of young actors from Serbia. The play explores gender stereotypes and culturally entrenched notions of masculinity in order to raise awareness of gender equality.