Women in Switzerland's diplomatic service: from early pioneers to the first State Secretary
To mark International Women's Day, we take a look back at women's roles and careers in the Swiss diplomatic service. We talked to Sacha Zala, historian and director of the Diplomatic Documents of Switzerland (Dodis) research centre.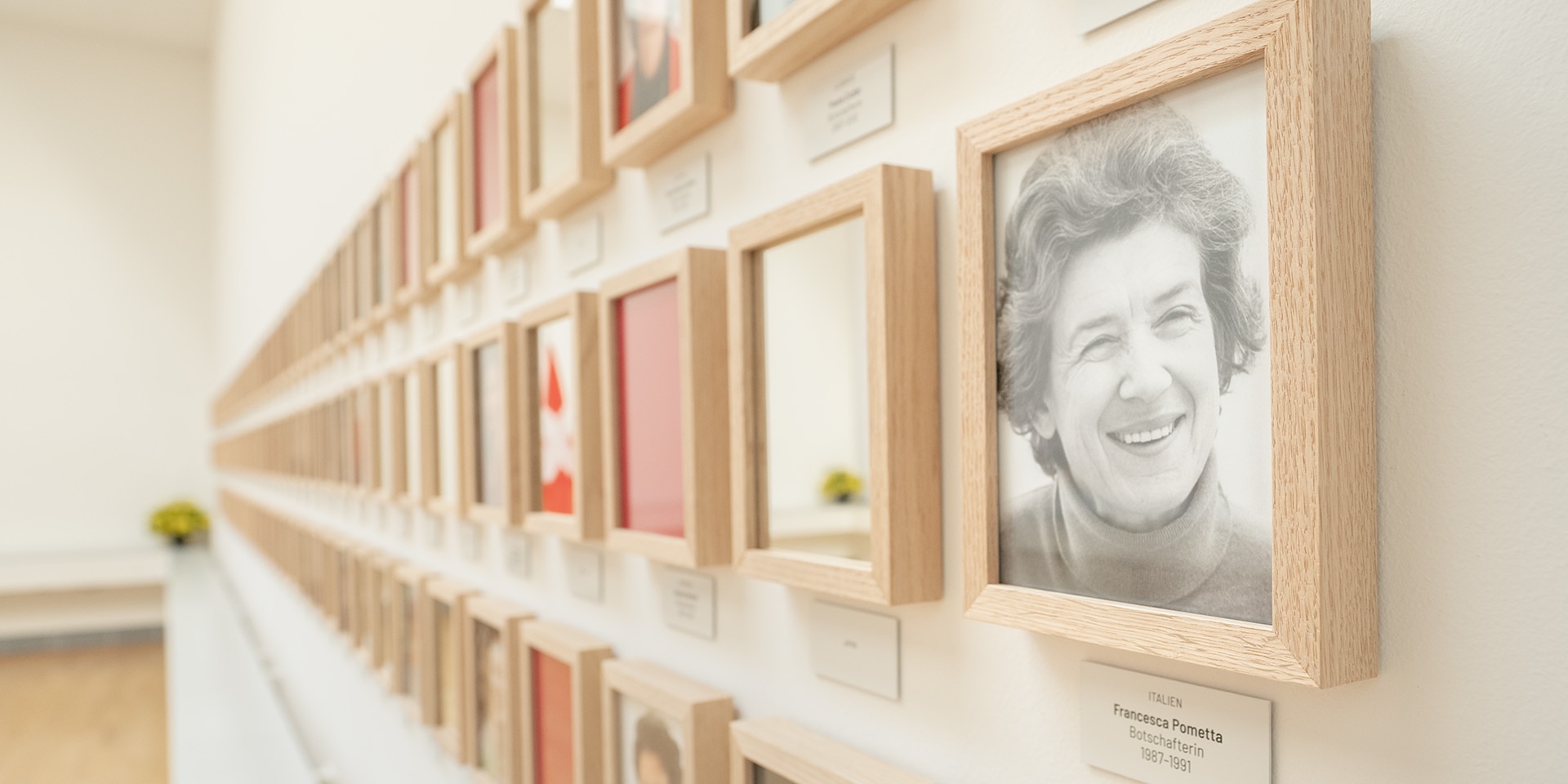 Portraits of women who have held the position of ambassador abroad or director in Bern for the first time are on display in the new "salle Francesca Pometta" in the Federal Palace West. © FDFA
What titles should women have? Where should they be placed at official receptions? Within the Federal Administration, a lot of words were exchanged on these and other issues when women were admitted to the diplomatic service. The issue first arose in 1953 when ambassador Frances Willis arrived in Bern. She was the first woman to be appointed a US career ambassador and the first woman to serve as US ambassador to Switzerland. "The Protocol section at the time contacted other European countries to ask how they dealt with women ambassadors," explains Dodis director Sacha Zala, who was born in Poschiavo in the canton of Graubünden.
Even after consulting its neighbours, Switzerland found it challenging to make the necessary decisions, with the matter further complicated by Swiss multilingualism. It was finally decided that Frances Willis should be addressed as Madam Ambassador, Frau Botschafter and Madame l'Ambassadeur. Although 'Fräulein Botschafter' was initially put forward as a title, "local diplomats realised that calling Frances Willis 'Miss Ambassador' would sound ridiculous, not least because she also held a doctorate," says Zala. 
Francesca Pometta – a trailblazer
In Switzerland, women did not have access to diplomatic careers until 1955. "That was the year in which the entrance exam was introduced, which radically changed the diplomatic service recruitment system. In the past, diplomats were recruited from among the leading Swiss families," explains Sacha Zala. "An open competition was set up enabling everyone – women, men and people from all social backgrounds – to try for the diplomatic service."

Francesca Pometta was the first Swiss woman to pass the exam in 1957. "She proved to be one of the best of her class ," says Sacha Zala. Originally from Ticino, Francesca Pometta grew up in an Italian-speaking family in Geneva, "so she also spoke perfect French, as well as German." In 1977, she became the first woman to hold the rank of ambassador. She subsequently served as head of the Permanent Mission of Switzerland to the United Nations in New York between 1982 and 1987 before being appointed ambassador to Italy from 1987 to 1991. On International Women's Day on 7 March, a room named after Francesca Pometta was inaugurated in the Federal Palace West Wing in the presence of Federal Councillor Ignazio Cassis (see below).
Serving as a diplomat – a life choice
Born in 1926, Francesca Pometta was a pioneer in Switzerland's diplomatic service. "She was a trailblazer on various fronts, as she always came top," enthuses Zala. Working in a male-dominated environment, she had to be "more assertive than her colleagues in order to be heard. She also faced the challenge of proving that women could be leaders," says Zala. 

In those days, women like Francesca Pometta and Marianne von Grünigen, Switzerland's second woman ambassador, were forced to make tough life choices. "Before 1972, women diplomats who got married were forced to give up their careers," says Zala.
Records show that in the 1970s, senior managers at the Federal Political Department, as it was then known, also discussed whether women were suited to taking up posts in countries with 'challenging' climates or security situations. "Evidently, this was not a problem for the wives of ambassadors posted to these countries," says Zala. "Women have actually always played a part in diplomacy, but in the past could only do so as ambassadors' wives or secretaries."
First woman appointed State Secretary in 2016
Although the share of women in managerial roles is increasing, women are still underrepresented. About 27% of Swiss representations are currently headed by a woman ambassador. 2016 marked another milestone for women in the Swiss diplomatic service when Pascale Baeriswyl was appointed State Secretary. She was the first woman, and the first woman with children, to hold the position. 

Room in Federal Palace West named after Francesca Pometta
In recognition of women's historical role in Switzerland's diplomatic service, a room in Federal Palace West now bears the name of Francesca Pometta, the first Swiss woman to enter the diplomatic service and Switzerland's first woman ambassador (see above). The official inauguration took place on 7 March on the occasion of International Women's Day and in the presence of Federal Councillor Ignazio Cassis.
An infographic on the left-hand side of the room traces the increase in women ambassadors from 1957 to the present. There are also portraits of all the women who, for the first time, were appointed ambassador at a representation or as a senior manager in Bern. In making this symbolic gesture, the Federal Department of Foreign Affairs hopes to encourage young people to enter the diplomatic service.
Swiss diplomatic documents
"The Swiss Federal Archives send us huge stacks of documents every year." To say that Sacha Zala and his staff work through mountains of paperwork is an understatement. "We actually go through 1.5 million or so records a year and select around 1,500," he says. The Dodis team is allowed to access documents after thirty years and is currently studying pre-1992 documents.

Searching the records for aspects of women's history, in particular, can be tricky and time-consuming. "The records contain plenty of information about women, but you have to sift through it carefully. It's labour-intensive work," says Zala.