"What does the FDFA advise?"
Many Swiss nationals travelling abroad ask the Federal Department of Foreign Affairs FDFA for recommendations and advice on their journey. A list of questions and answers.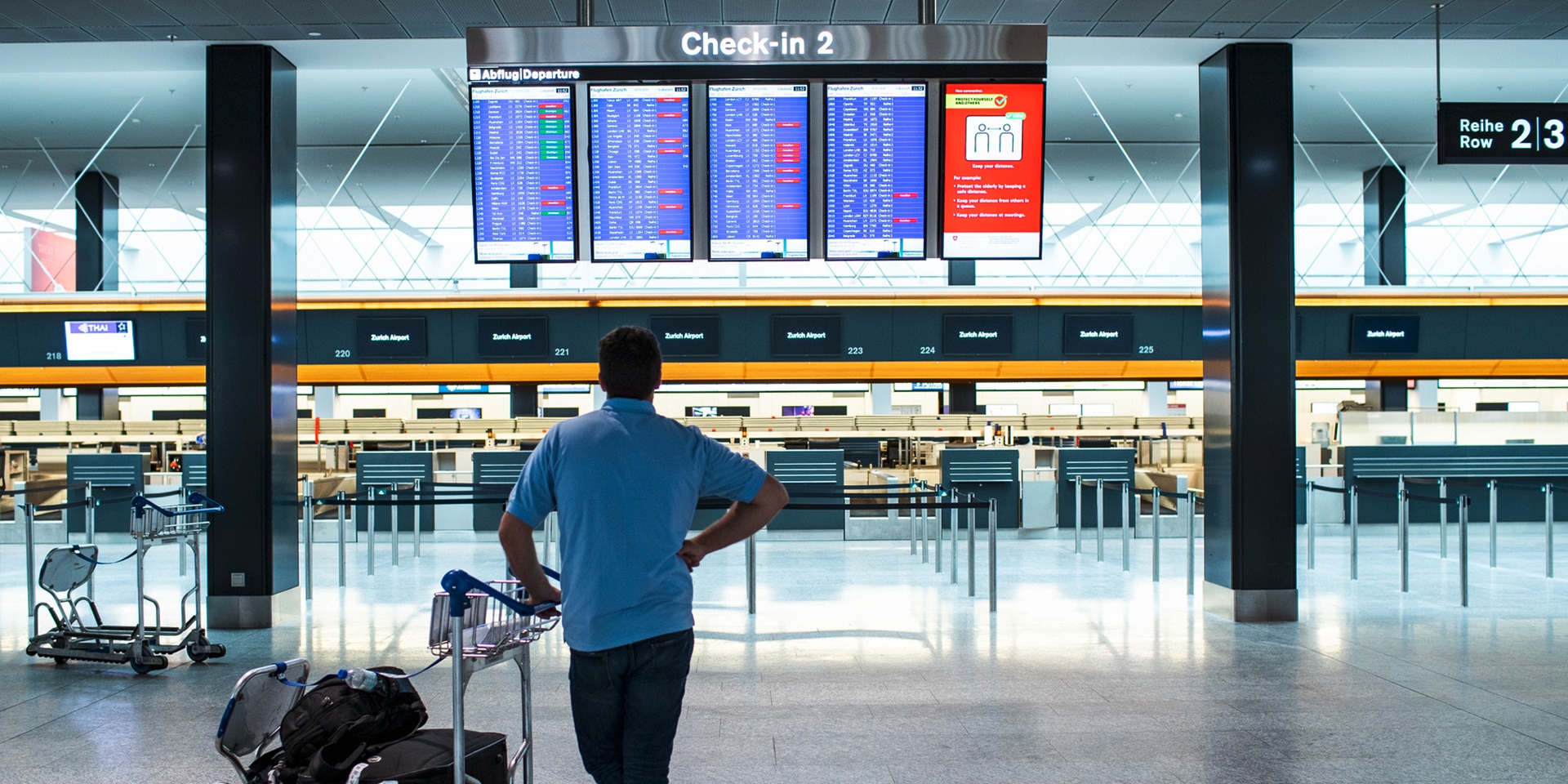 Organizing a trip requires careful planning. © Keystone
To which countries can I travel?
The Federal Council recommends continuing to refrain from any non-essential travel abroad.
If you need to make an urgent trip abroad:

Individual countries are constantly adapting their measures to contain the COVID-19 coronavirus as the situation develops. Find out which regulations are currently valid in your destination country. Information can be obtained from the foreign representations in Switzerland (embassies and consulates). Or get advice from a travel agency.

For your return to Switzerland, please observe the quarantine rules of the Federal Office of Public Health.
Where can I obtain information about the health situation and internal situation of other countries?
Other countries' information on the health situation, entry requirements and internal measures to contain the coronavirus can be found on the following websites:
Information on entry restrictions and national measures can be obtained directly from foreign embassies in Switzerland or on the websites of the relevant ministries in the individual countries.
The World Health Organization publishes reports on countries affected by the virus (WHO, Coronavirus disease (COVID-19) pandemic).
FDFA travel advice for security-relevant information regarding the political situation and crime.
Do I have to quarantine when I enter Switzerland from abroad?
The Federal Office of Public Health (FOPH) has decreed that from 6 July 2020, persons entering Switzerland from specific areas will have to remain in quarantine for ten days. Please refer to the list of the FOPH, which is updated on a regular basis. 
What assistance does the FDFA provide for me while I am travelling abroad?
Travellers are fully responsible for their own travel arrangements and for ensuring that their trip goes smoothly and safely.
We advise all Swiss nationals planning to travel abroad to download the FDFA's Travel Admin app and enter their journey and current whereabouts. Swiss and Liechtenstein nationals who find themselves in distress abroad can seek assistance and advice from Swiss representations or contact the FDFA Helpline. The FDFA only provides assistance if the persons concerned have done everything that could reasonably be expected of them to resolve the situation and to obtain the funds they need (Help while abroad, FDFA, in French, German and Italian).
I'm still stranded abroad. What should I do?
We advise people to check online or contact a travel agency or the airlines to find out the operating commercial flights. Certain airlines have resumed operations. Swiss travellers abroad can also contact the relevant Swiss representation abroad directly by e-mail or telephone. Most CH representations have introduced appointment arrangements due to social distancing.
Why is it important to register with the Travel Admin App?
Basically, the Travel Admin App gives tips and advice on how to prepare for trips. However, especially in crisis situations, the registration of Swiss citizens is also important because it allows the FDFA to contact, if possible or necessary, those affected and provide them with information. 
Therefore, in addition to the registration via the App or online, you should also enter the time and place of your trip. This will give the FDFA an overview of where Swiss travellers are currently in the world.
It is primarily the responsibility of the individuals to organise the return with the help of a travel agency or directly with the airline. The FDFA provides return assistance by means of information provided by the Swiss representations on the spot. In the event of a request for financial assistance, please also contact the local Swiss representation concerned. To a certain extent it is possible to grant emergency loans, e.g. to cover medical costs or to continue a stay abroad until return is possible. The FDFA can support persons abroad if they are unable to overcome their situation of distress organisationally or financially on their own or with the help of third parties (family, friends, employers, school, etc.).
What do I have to do to register on the Travel Admin App?
I have contacted the FDFA via the Travel Admin App, but have not yet received any information. What should I do now?
Those who have not yet received information should contact the embassy in the country of residence by phone or email. Give the embassy your contact details. In the list of official Swiss representations or on the Travel Admin App you will find the contact details of the corresponding Swiss representation.
I am a Swiss abroad; can I receive financial support from the FDFA?
Under certain conditions, the Confederation grants welfare benefits to Swiss abroad who find themselves in a financial emergency on a subsidiary basis (i.e. if the host state's own resources and any assistance it may provide do not improve the emergency situation). Please contact the Swiss consular representation responsible for you. 
Is repatriation to Switzerland possible for Swiss abroad?
Swiss abroad who wish to return to Switzerland should contact their Swiss representation responsible for consular matters to obtain information about possible return flights.
When entering Switzerland, what do I have to be aware of as a Swiss citizen abroad?
I am destitute and have no relatives/friends in Switzerland. Do I receive financial support to cover my board and lodging in Switzerland?
To submit an application for social assistance, Swiss abroad who wish to return to Switzerland should contact the Swiss representation responsible for their consular affairs. 
I am a self-employed person abroad and a Swiss abroad. Can I receive financial support (e.g. in case of loss of income) from Switzerland?
The Confederation does currently not provide any financial support for companies or self-employed persons abroad within the framework of Regulation COVID-19. Please clarify your possibilities with the authorities in the host country. 
I have lost my job abroad and would like to return to Switzerland. What help can I get with my job search?
In principle, you can make use of the Swiss public employment agency before you return. Information and forms can be found here. 
Can I receive benefits from Unemployment Insurance (ALV)?
Swiss abroad who live in an EU/EFTA country must in principle claim their benefits in the last country of employment. To do this, you should contact the unemployment insurance in your host country. 
If you return from a country outside the EU/EFTA, you are entitled to unemployment benefit under certain conditions (including 12-month periods of employment abroad and in Switzerland, of which at least 6 months in Switzerland). Clarify questions regarding entitlement and benefits of ALV with the Unemployment insurance in Switzerland in advance. 
We recommend that insured persons contact the Regional Employment Agency RAV or the Unemployment insurance by telephone or e-mail. 
Guide to returning to Switzerland
I'm running out of medication that I need to take regularly. What should I do?
If you are concerned about running out of medicine, you should do the following:
Consult a doctor on the spot, so that he or she can write you a prescription allowing you to go and get the necessary medication (possibly substitute drugs) from a local pharmacy.
If the medication cannot be obtained locally and no substitute medication is available, please check with your travel insurance company, relatives or acquaintances in Switzerland whether they can send the medication to you directly, either by regular mail or by courier/mail company.
If all of the above options have been exhausted, please contact the FDFA again, stating what you have undertaken and why it was not possible to obtain the necessary medication. You will need to include a confirmation from a local physician that no alternative medication is available locally. Requests will be reviewed on a case-by-case basis. If the request is approved, you will receive instructions on how to proceed.
Are repatriations organised to return Swiss nationals stranded abroad due to flight cancellations?
The situation is very different depending on destination and country.
The Confederation may provide subsidiary assistance and support within the scope of its possibilities and in accordance with the principle of proportionality. However, the Confederation cannot ignore the orders of the local authorities; the travellers must also follow these orders.
Because of the cancelled flights my visa has expired and without a visa I cannot buy a plane ticket. What should I do?
The first step is to contact the immigration authorities to extend the validity of your visa. Otherwise you risk being fined for illegal residence in the country. In a second step, you can then purchase a plane ticket.
I am in London and would now like to return to Switzerland. I plan to take the car or the train. Can I travel through France or will I be stopped there?
Do I need a return travel permit to travel through country X (e.g. Spain and France) to Switzerland?
This depends on country X, so please contact your local Swiss representation.
I am blocked in country X. How can the FDFA give me financial assistance?
The FDFA examines possibilities of support blocked persons and can offer assistance abroad in accordance with the Law on the Swiss Abroad (e.g. bridging assistance in the form of financial support; emergency loans for medical assistance) until the first possible departure. Please contact your local representation. Before any support can be provided, the following points in particular should be noted:
The personal responsibility of the applicant is claimed. This responsibility includes that the person has first contacted relatives or acquaintances to obtain financial support. Applicants must also contact their financial institutions (e.g. increase in credit card limit). If none of these contacts are able to help, an emergency loan can be considered. Logic also requires that the majority of these people have an income (salary, AHV/IV pension, etc.). If they have a monthly income, it must therefore be used to cover the financing of the extended stay. 
The Swiss Federal Railways (SBB) offer the Western Union money transfer service at more than 140 stations in Switzerland. This allows you to send money to more than 200 countries around the world. Within minutes the money is available at one of the numerous agencies around the globe.
Organised return
The FDFA's recall campaign has been completed since the end of April 2020. Since then, the FDFA has been offering support and consular protection as far as possible to Swiss travellers who are still blocked and who are in a difficult situation, as well as to registered Swiss nationals abroad. This support also includes the search for alternative return travel options and the arrangement of free seats on flights from third countries. 
In extremely difficult contexts, where commercial flights are still completely discontinued, third country flights are hardly offered any more and there is still a high number of Swiss people willing to return, the FDFA may exceptionally consider a special flight as subsidiary support for these people on the basis of Art. 42 of the Law on the Swiss Abroad. However, this would be an exceptional measure that would not be offered under the same conditions as the repatriation flights in March and April 2020.