COVID-19: all FDFA divisions are affected. FDFA Protocol is currently answering a large number of requests that are "as urgent as they are varied".
The global COVID-19 pandemic is now affecting the day-to-day work of everyone at the Federal Department of Foreign Affairs (FDFA).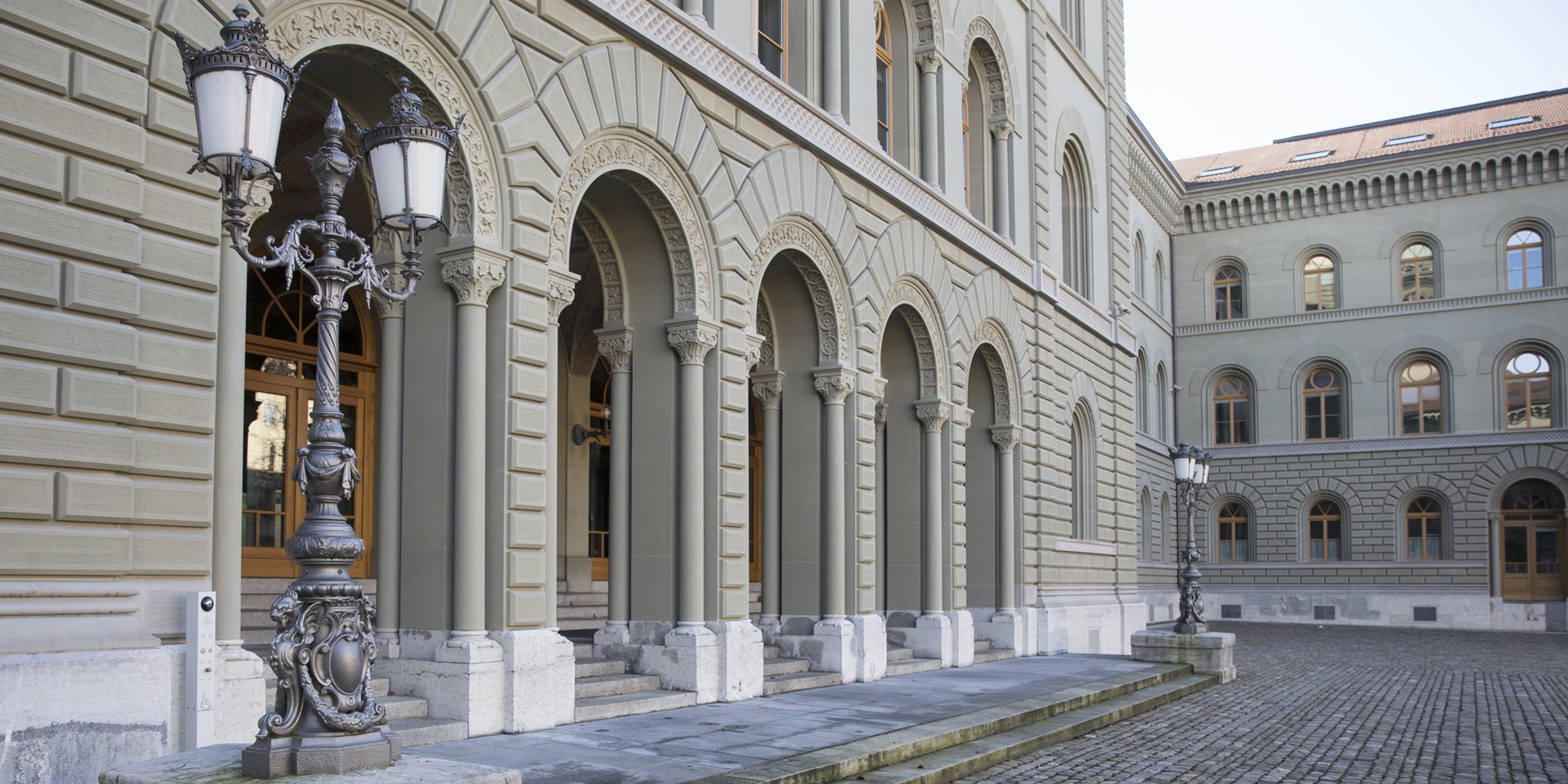 Der Westflügel des Bundeshauses beherbergt einen Teil der Dienstleistungen des EDA. © Keystone
FDFA Protocol is the gateway to all foreign embassies accredited to the Swiss Confederation. Protocol and the Permanent Mission of Switzerland to the UN in Geneva are responsible for the 624 foreign diplomatic representations in Switzerland (embassies, consulates, missions) as well as 44 international organisations, which together employ some 46,000 people. Protocol's brief is to provide them with support, answer their questions and address their concerns on a daily basis.
How does the COVID-19 crisis impact Protocol's work?
Protocol serves as a veritable hub which works closely with the Swiss Mission in Geneva, the Federal Office of Public Health, the State Secretariat for Migration, the Federal Office of Police, the Federal Customs Administration and other government offices. It is responsible for collecting, processing, transmitting and responding to a large number of requests.
"In an emergency situation, such as the one we are currently going through, diplomatic missions and representations in Switzerland have a wide range of pressing needs. The requests are coming in waves," explains Head of Protocol, Ambassador Beatrice Schaer.
"We provide a variety of services including, for example, communicating Federal Council measures and providing guidance concerning the new legal framework adopted during this extraordinary situation. We also review requests from foreign diplomatic agents wishing to enter Switzerland, help coordinate the repatriation of foreign nationals needing to travel through Switzerland en route to their country of origin, assess family reunification cases and facilitate expedited assistance in cases of medical emergency for humanitarian reasons."
Protocol also plays a key role in anticipating problems resulting from this rapidly evolving public health crisis, including medical care and the repatriation of bodies of COVID-19 victims.
During this unprecedented public health crisis, FDFA Protocol has had to adapt protocolar procedures. In pragmatic recognition of the reality of the situation, a presentation of credentials ceremony was held remotely for the first time on 2 April. Having received the letters of credence ahead of the ceremony, Federal Councillor Simonetta Sommaruga, President of the Swiss Confederation, had a 10-minute telephone conversation with each of the new heads of mission, at the end of which all were formally accredited as ambassadors of their respective states.