Swiss permanent mission's perspective on humanitarian capital Geneva
Capital of multilateralism and health and a centre of innovation: Geneva has many roles. The conflict in Ukraine has highlighted the importance of Geneva, not least as the capital of humanitarian aid. Anne de Riedmatten, head of the Swiss mission's Humanitarian Affairs Section, talks about this unique ecosystem.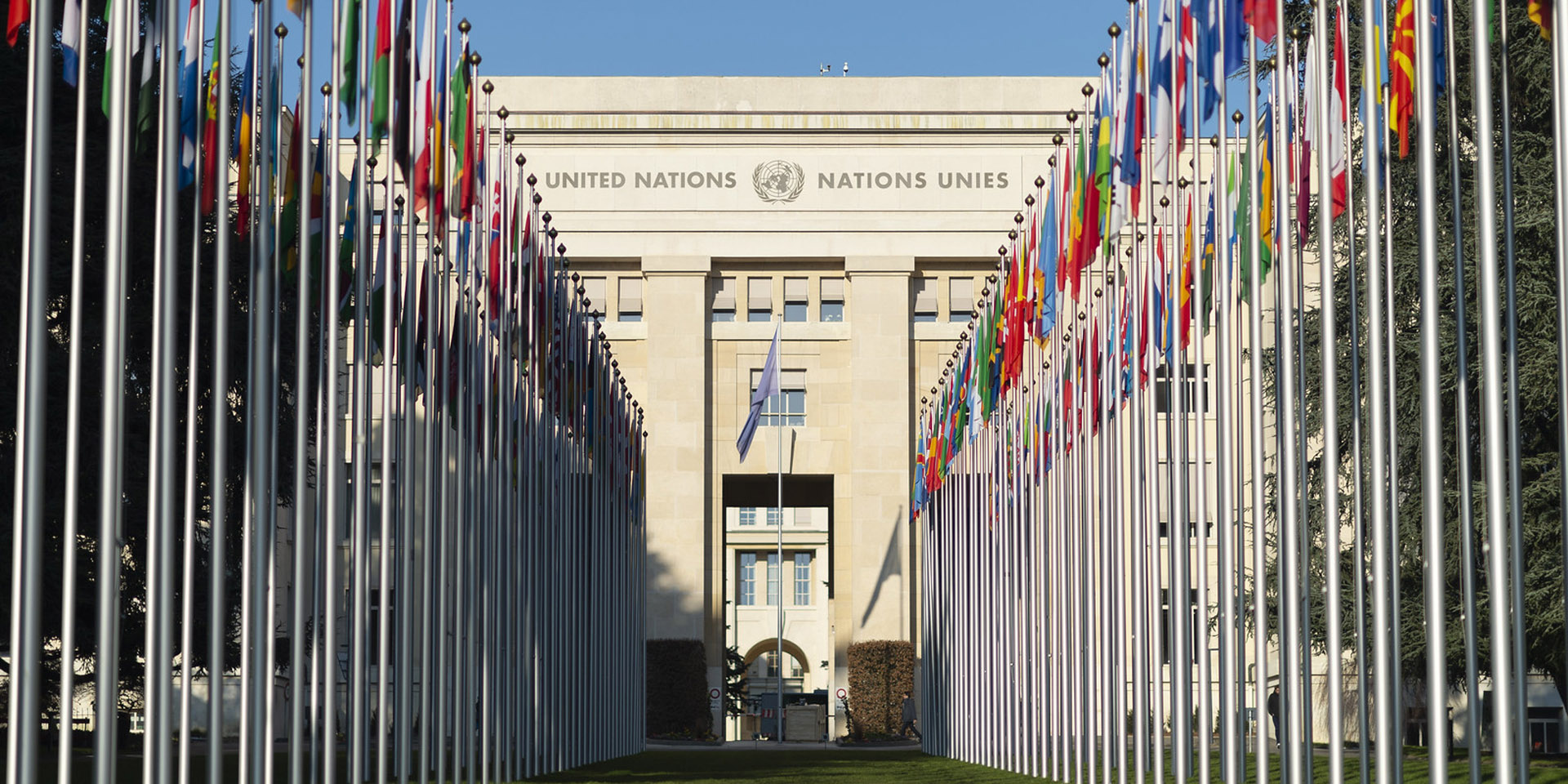 At the heart of multilateralism. The Mission works to defend Switzerland's interests in international organisations. © UN Photo by Violaine Martin
Ms de Riedmatten, how would you describe Geneva's role in the international arena?
Geneva is recognised as a leading centre of multilateralism. The challenges we face today require comprehensive, multidisciplinary responses. To meet these challenges, Geneva offers a diversity of expertise and knowledge, resulting in innovative solutions for the international community. Recent events have confirmed this: the COVID-19 pandemic has underlined Geneva's position as the world's health capital, with key health actors, including the WHO, the Global Fund, and GAVI located close to each other, facilitating more effective collaboration. The conflict in Ukraine has highlighted the importance of International Geneva for humanitarian activities and action. Geneva is thus a centre for dialogue, partnerships and innovation that responds on a day-to-day basis to emerging challenges related to crises, climate change or digitalisation.
What role does the mission play within International Geneva?
Through its role and presence in Geneva, the mission has a twofold impact. First, as host state, it is important that we welcome and provide high-quality services to the international organisations that have offices in Geneva. The mission works to represent Switzerland's interests as a member state in these organisations. In keeping with the tradition of dialogue that defines our foreign policy, the mission promotes the creation of diverse and innovative partnerships among different stakeholders, from governmental bodies to the private sector and NGOs.
The challenges we face today require comprehensive, multidisciplinary responses. To meet these challenges, Geneva offers a diversity of expertise and knowledge, resulting in innovative solutions for the international community.
Anne de Riedmatten
How does your section engage with humanitarian organisations? Can you give us some examples?
The Humanitarian Affairs Section plays a pivotal role in various humanitarian events organised in or from Geneva. The recent High-Level Pledging Event on the Humanitarian Crisis in Yemen, co-organised in a hybrid format with Sweden and the UN Office for the Coordination of Humanitarian Affairs (OCHA), is a good example: first, we had to set the agenda for the meeting, ensure that all the parties concerned, including local stakeholders, were represented, and call on the states involved to set their sights high in their financial contributions.
Let me give you another concrete example of Geneva's pivotal role: together with the ICRC, the UNHCR, the World Food Programme, Médecins Sans Frontières Switzerland and the Centre for Humanitarian Dialogue, we provided instrumental support for the establishment of the Centre of Competence on Humanitarian Negotiation in Geneva in 2016. This initiative, which is now a permanent fixture, allows key humanitarian actors in Geneva to share their expertise on a vital issue: ensuring access to populations most severely affected by conflicts.
What's involved in representing Switzerland's interests in international humanitarian organisations?
Our section represents Switzerland, for example, in the governing bodies of humanitarian partners like the UNHCR, the ICRC and the International Organization for Migration. It also ensures that funds provided are well-managed so they're used as efficiently and effectively as possible.
The section also maintains a close dialogue with its partners in Geneva to understand their challenges and offer solutions so that they can continue to provide tailored responses to populations in need. For example, humanitarian organisations are now expected to redesign their programmes to minimise the carbon footprint of their activities. To send a strong signal of political support for these reforms, Switzerland was the first country to sponsor the Climate and Environment Charter for Humanitarian Organisations, which was initiated by members of the International Red Cross and Red Crescent Movement. Switzerland then contributed to a fund the ICRC set up to help it achieve the charter's objectives.
In adopting its digital foreign policy strategy, Switzerland has identified digitalisation as a thematic priority. Do digital technologies also play an important role in humanitarian work?
Digital technologies present both new opportunities and new challenges for humanitarian action. For example, mobile phones can help families separated by conflict or natural disasters to stay in touch or find each other. New technologies can be very useful in such cases. But they also carry risks: the recent cyberattack on the ICRC is a good example. Humanitarian organisations know that data theft puts the vulnerable people they serve, including those who are fleeing a conflict or in detention, at serious risk.
Partners can draw on Swiss expertise to find solutions. A good example is the collaboration between the ICRC and EPFL's EssentialTech Center, which aims to find digital solutions to protect humanitarian data and limit the impact of hate speech directed at humanitarian organisations on social media.
One mission, two roles
The role of the Swiss Mission in Geneva is twofold: on the one hand, the Multilateral Division, in close collaboration with the FDFA Headquarters in Bern, defends Switzerland's interests with the international organisations and institutions at the heart of international Geneva. One of its priorities is to work for a solid and effective multilateralism. In addition, the Host Country Division contributes to strengthening Geneva as a centre of global governance, by promoting the development of the conditions for the reception and work of the international community.