Working together with the private sector reinforces international cooperation
One of the main goals of international cooperation (IC) is poverty reduction. To reach this goal and have a lasting impact in the countries concerned, partnerships with the private sector are essential. The innovative drive, expertise, distribution channels and investment opportunities of private-sector companies make them invaluable to the implementation of IC activities.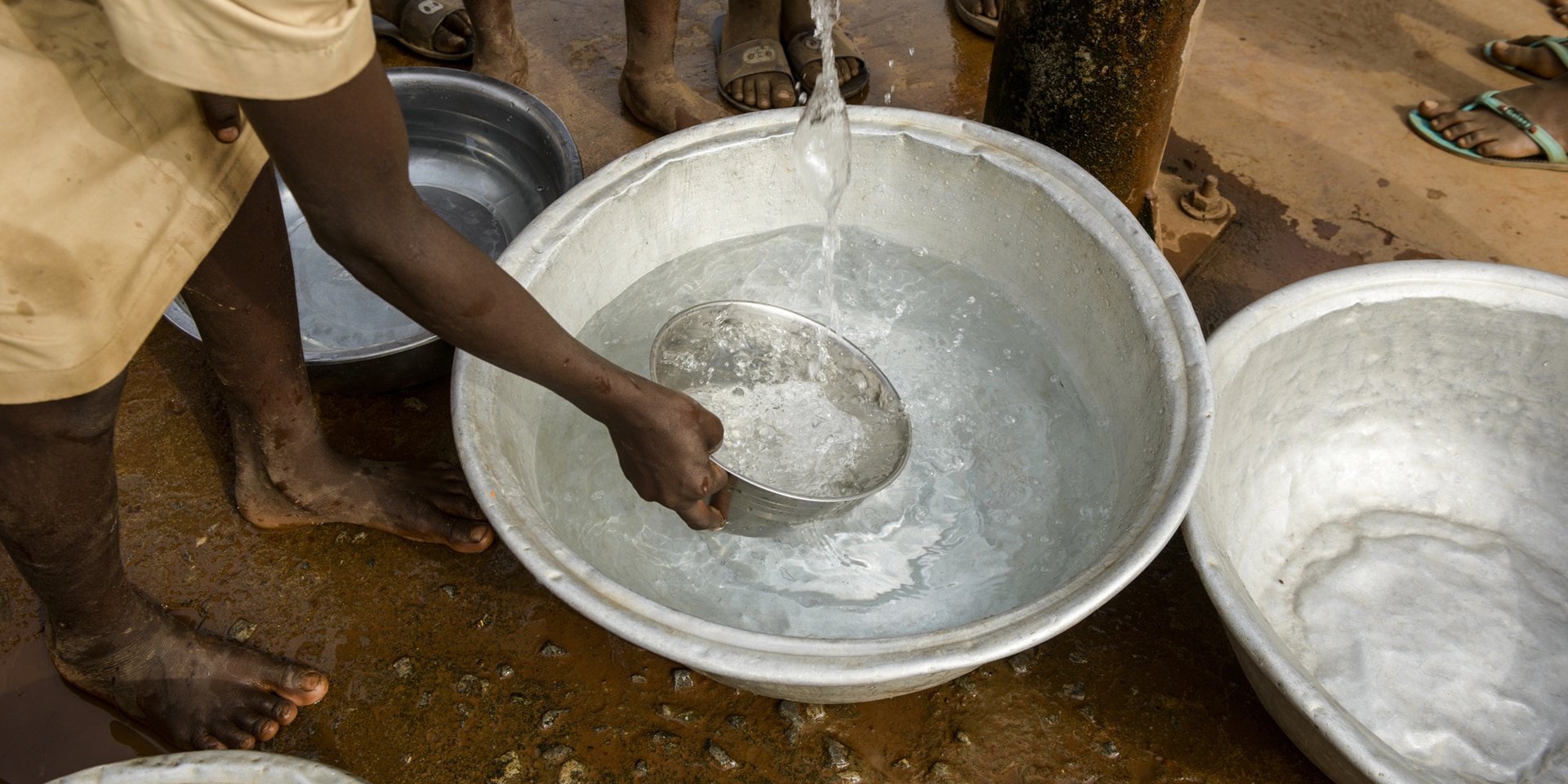 Clean water is the basis for development cooperation: To achieve the goals of IC, Switzerland also relies on the private sector. © Keystone
Together with the rest of the international community, Switzerland supports the United Nations 2030 Agenda with its 17 Sustainable Development Goals (SDGs). To meet these goals, all stakeholders in development-related fields must be included in the relevant international processes early on. That is why Switzerland relies on the expertise of other actors – multilateral organisations, private companies and foundations, NGOs, universities and research institutions – when undertaking its international cooperation (IC) work, which has also become one of its strengths.
Additional resources and know-how thanks to the private sector
Involving businesses can free up additional funds and provide wide-ranging expertise and practical experience that the international community can benefit from. The private sector is the biggest employer around the world; poverty cannot be eradicated without it. Because of this, Switzerland is committed to stable business environments, favourable investment climates, and basic education and vocational training that makes young people employable. In many cases, NGO are also part of projects that the Swiss Agency for Development and Cooperation (SDC) undertakes with the private sector as partners and thus benefit from this type of cooperation as well. In addition, Swiss NGO have for many years been involved in developing partnerships with representatives of the private sector or the academic world.
Clear conditions for the private sector
SDC's cooperation with the private sector comes with stringent conditions:
Social, environmental and governance standards must be adhered to
The private operator would not have made socially or environmentally sustainable investments (or would have made fewer) without access to public funds
There is no market distortion
The Swiss Agency for Development and Cooperation (SDC) has been implementing this cross-sectoral approach for several years. In 2006, it completed an overall assessment and analysis of its private-sector partnerships to date. The findings included the importance of developing projects together with private-sector partners, staff training on specific requirements for joint projects, and the option to review the flexibility of different methods of project implementation with private operators depending on geographical location. The findings are being implemented on a gradual basis.
Swiss water management expertise
The SDC also relies on partnerships with the private sector for water-related issues. In 2017, the FDFA, under the direction of the then Head Didier Burkhalter, and the food company Nestlé came to an agreement on various objectives as part of a three-year Memorandum of Understanding:
Access to clean drinking water for everyone
Availability of clean water for food production
Better water management capacities of political and economic stakeholders in the affected regions
Promotion of water management and general water-related issues including specialist and practical knowledge sharing at the international level
Memorandum of Understanding
In August 2017, the Memorandum of Understanding was signed by the SDC's then Director Manuel Sager and Reto Grüninger, head of the "Competence Centre for Commitment with the Private Sector". On the part of Nestlé, it was signed by Mark Schneider, Chief Executive Officer, and by Christian Frutiger, then Global Head of Public Affairs. As of October 1, 2019, Christian Frutiger acts as Head of the SDC's Global Cooperation Division, making him one of four SDC vice Directors. In his function as Head of "Global Cooperation" at the SDC, Christian Frutiger is not responsible for the cooperation with the private sector. This is the responsibility of the "Competence Centre for Engagement with the Private Sector", which is part of the Directorate "Southern Cooperation".
The SDC runs the following projects in partnership with Nestlé
SuizAgua, Peru (01.10.2016 – 31.12.2020): The goal of the corporate water footprint project is to improve water resources management by encouraging private companies to use and manage water sustainably in the production of goods and services. The project includes campaigns to raise awareness among civil society and change behaviour. SDC budget: CHF 1,990,000


More Coffee, Less Water, Vietnam (01.05.2014 – 30.03.2020, completed 31.12.2019): The intensification of coffee production in Vietnam, which is the world's second largest coffee producer, has resulted in seasonal water shortages due to over-irrigation and water mismanagement. Because of climate change, the dry season is likely to last even longer, which means that the long-term negative consequences of such water shortages on the country's coffee production could potentially affect millions of people. Based on previous studies by three research institutes, the SDC and Nestlé have raised the issue of water management with the Vietnamese coffee sector in order to ensure sustainable coffee supplies through rational water resources planning. To this end, the SDC works with the Vietnamese authorities to foster a favourable legal environment and Nestlé helps over 12,000 local coffee farmers to optimise water usage and improve their incomes. The project demonstrates that saving water is both sustainable and profitable for smallholders. The SDC has invested around CHF 1.4 million in the project; Nestlé's budget is slightly higher. SDC budget: CHF 1,410,000


Advancing Sustainable Agriculture, Ukraine (01.10.2019 – 31.03.2022): The main goal of this project is to improve the lives of local farming families in Ukraine by increasing know-how in order to bolster production. SDC budget: CHF 345,000


Formación técnica profesional (Promoting vocational training), Bolivia (01.05.2017 – 30.06.2022): This joint project with Nestlé aims to reduce poverty and inequality by improving access to the job market in Bolivia. Its objectives are to boost professional competencies, certify skills, ensure the quality of training centres and reinforce the joint responsibility of public and private actors. SDC budget: CHF 18,000,000
Cross-sectoral dialogue brings about new approaches
Water is just one example of how important international cooperation is. It also shows what possibilities open up when the private sector is included early on. "The general public is now demanding that private companies play their part in bringing about change and act responsibly. The enormous resources and innovative capacity of private companies are increasingly seen as an opportunity to involve a diverse range of private sector players in solving the global challenges of our time" explains SDC Deputy Director-General Thomas Gass.
Collaborative projects are carried out by third-party or multi-partner organisations such as NGOs and research institutes. This means that the SDC supports the project partners rather than the private sector directly.
These partnerships often help create new products, services and technologies, but they can also result in innovative business and financing models that ultimately benefit the most vulnerable population groups. The purpose of these joint efforts therefore remains focused on achieving sustainable development and effective international cooperation work.