Niger – President Cassis deepens bilateral relations and pays tribute to ICRC partnership
During his trip to the West African country of Niger with National Council President Irène Kälin and ICRC President Peter Maurer, President Ignazio Cassis stopped in the city of Agadez, among other places. The large region is marked by a migration crisis because it is situated on the transit route for refugees and people seeking protection in Europe. The Swiss delegation visited a migration centre in Agadez and a project financed by the ICRC to support people with disabilities.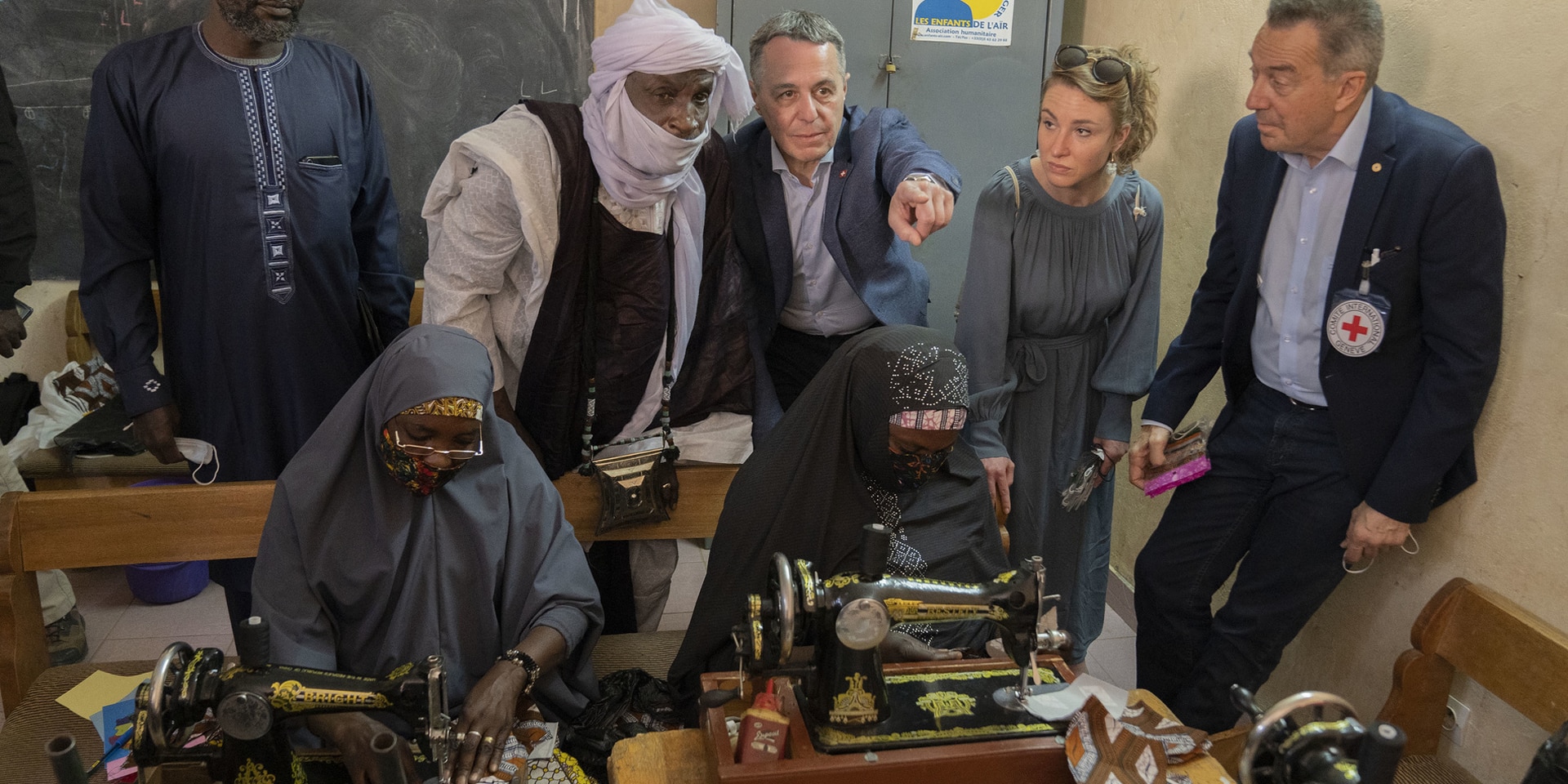 President Ignazio Cassis with National Council President Irène Kälin and ICRC President Peter Maurer visited a centre for people with disabilities in Agadez financed by the ICRC. © FDFA
The city of Agadez in northern Niger is a UNESCO World Heritage Site which used to draw tourists from far and wide with its cultural richness. Today, it is a transit point for tens of thousands of migrants and a centre for trafficking in people, drugs and arms. Every year, around 250,000 people pass through Niger – forcibly displaced or simply in search of a better life. A law introduced in 2015 banning the passage of migrants has been effective in reducing regular migration but has not stemmed irregular migration. At the same time, the law has destroyed the livelihood of the local population, which for centuries has been based on trade across the Sahara.
Hundreds of thousands dependent on humanitarian aid
Need and suffering are omnipresent in the region, and Nigerien society is naturally affected. For the local authorities, the migration crisis is a major challenge. The social fabric and the already weak state safety nets are under pressure, and social cohesion is disintegrating. 103,000 people in the region are dependent on humanitarian aid, and almost 20 percent of the population suffer from hunger. Switzerland is committed to improving protections for migrants here.  Mr Cassis was able to see for himself the reality of the migration crisis and visited projects run by humanitarian organisations that support the Nigerien government in protecting migrants.
Protecting the most vulnerable is key for Switzerland.
Ignazio Cassis, President of the Swiss Confederation
During his visit to Niger, Swiss president and head of the FDFA, Ignazio Cassis, visited Agadez on 9 February 2022. He went to see for himself the migration crisis and Switzerland's fruitful partnership with the ICRC. "Protecting the most vulnerable is key for Switzerland," said Cassis.
Seizing opportunities in Africa
Owing to fast-paced social, economic and political change, Africa is facing new opportunities. As a sign of the times, in its 2021 presidential elections, Niger saw its first democratic transfer of power since gaining independence. Unlike other states in the Sahel, Niger is characterised by relative political stability. Mr Cassis acknowledged this positive development during his visit, including in his meeting with President Mohamed Bazoum on 7 February. However, owing to armed conflicts in neighbouring regions, poverty, inequalities and recurring hunger crises, the challenges facing the country remain significant. Since 1978, through its international cooperation activities, Switzerland has been alleviating need and poverty in Niger and contributing to sustainable development in line with the 2030 Agenda. Switzerland's Sub-Saharan Africa Strategy 2021–24 is designed to leverage the opportunities Africa offers and address the challenges it faces. The Sahel is a priority region for the strategy, and Niger is part of that.

Reducing social exclusion of people with disabilities
Living with a disability in Niger, as in many other African countries, means living in social exclusion. Despite advances in Nigerien legislation to include people with disabilities in society, they are nonetheless still stigmatised. Government funding to support them is lacking.
In the Agadez region, the Swiss delegation led by President Cassis visited an ICRC-funded centre that helps people with disabilities improve their mobility and learn vocational skills. People with mobility impairments have the opportunity to obtain prostheses and wheelchairs. The purpose-built rehabilitation centre also offers training opportunities, including in textiles and metalworking. This enables people to regain a foothold in society and in professional life. 
The ICRC is Switzerland's most important humanitarian partner, in Niger and all over the world.
Ignazio Cassis, President of the Swiss Confederation
"The ICRC is Switzerland's most important humanitarian partner, in Niger and all over the world," said Cassis."We value our partnership with the ICRC, which is based on shared values and our humanitarian tradition.." In view of the many challenges in Niger, Switzerland is pursuing a broad approach, with a combination of development cooperation, humanitarian aid and peacebuilding. In this way, Switzerland is leveraging the potential of the various sectors and, in the long term, increasing the ability of the Nigerien state and its population to cope with crises without assistance from third countries.
Switzerland and the ICRC – a strong partnership
Since 1863, the ICRC, based in International Geneva, has protected the lives and dignity of victims of armed conflict and provided aid worldwide. The neutral and independent organisation derives its actions from the Geneva Conventions of 1949, which form the basis of international humanitarian law. The internationally recognised Geneva Conventions are one of the greatest achievements of multilateralism. A true instrument for peace, they save lives and help to reduce suffering in armed conflict on a daily basis.

Switzerland and the ICRC share the same humanitarian goals and values. The FDFA and the ICRC consolidated their strategic and operational cooperation in a memorandum of understanding in 2013 (renewed in 2017). With more than CHF 150 million per year, Switzerland is the ICRC's third-biggest donor.
Switzerland's commitment and that of the ICRC often complement each other. For example, the FDFA regularly seconds specialists from the Swiss Humanitarian Aid Unit (SHA) to the ICRC as required.