Civilians under fire
For years, Switzerland has been working for peace and security at various levels. It will be participating in the UN Security Council's Open Debate of 25 May 2021 on the protection of civilians, and coordinating various side events on the topic throughout the week. Switzerland is seeking a non-permanent seat on the Security Council as a way to underpin its work for world peace and security.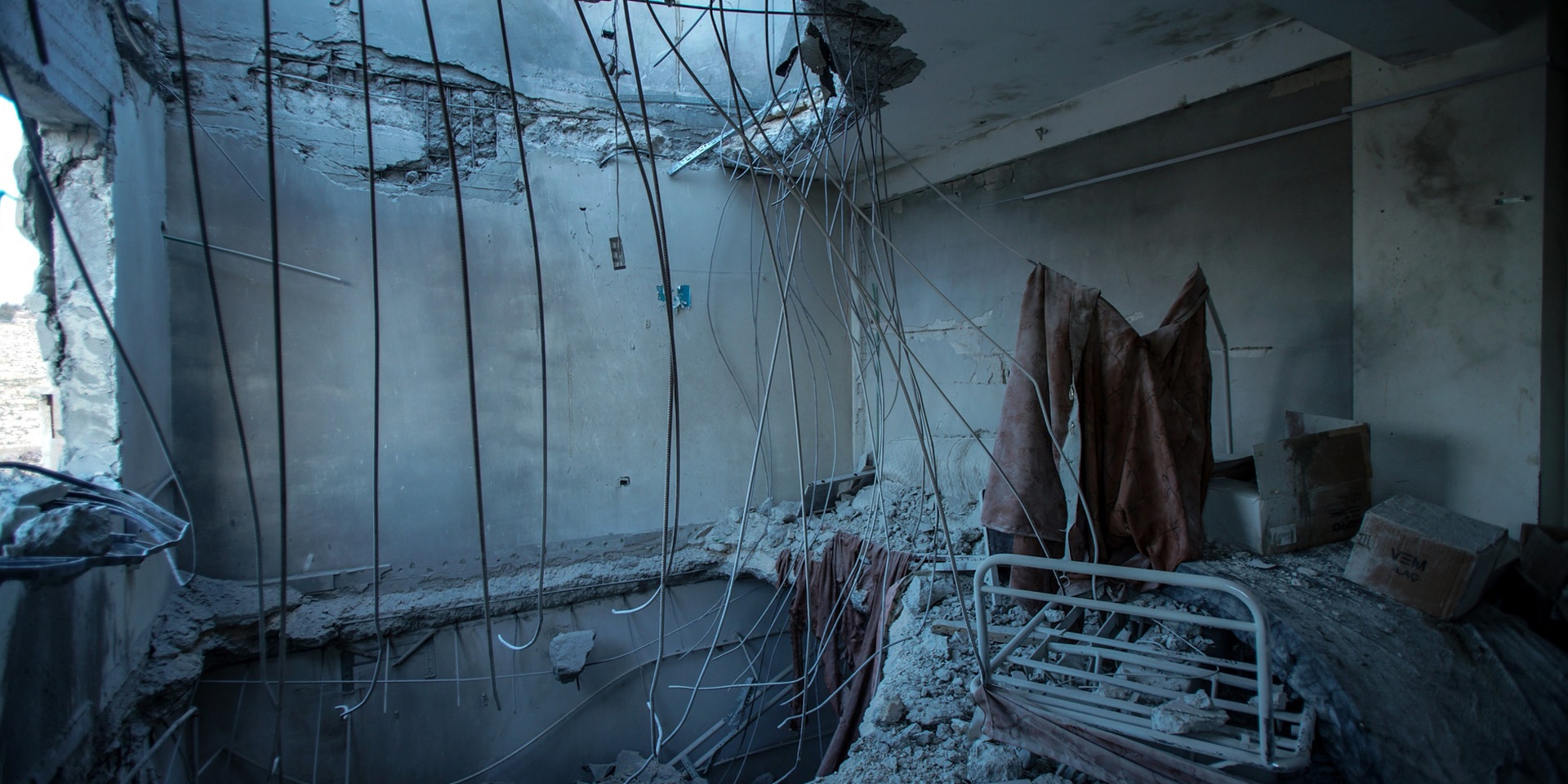 After four airstrikes in one day in February 2018, the hospital in Kafr Nabl, Syria, ceased operating. © Keystone
Somewhere out there in the world, a newborn child first sees the light of day. The air is hot and stifling. Suddenly, the wail of an siren pierces the calm. Seconds later, rockets hitting the ground shake the foundations of the maternity clinic. Back here in our country, headlines like "Five dead after rockets fired at hospital" barely garner more than a glance from many a reader. In newspapers, they are tucked away practically out of sight, crammed together in a column in the world news section. Why? Because they are simply too commonplace. In conflict zones, almost every day, the sick and the wounded come under fire, as do doctors, nurses and ambulance staff working to save the lives of their patients. 
The World Health Organization (WHO) recorded over 1,000 violent incidents in 2019 that impacted medical care, killing and injuring many people in 11 countries and regions. Examples of such incidents include the destruction of hospitals, attacks on medical transports, the military use of medical facilities and the looting of medical supplies from humanitarian convoys. Such egregious violations of international humanitarian law have far-reaching and long-term consequences: in Afghanistan alone, such incidents resulted in the loss of 48,000 hours of healthcare and 76,000 missed medical consultations in 2019, according to UN figures. Entire healthcare systems are brought to the brink of collapse, not least during the ongoing pandemic.
Promoting civilian peacebuilding for 150 years
Building on its Foreign Policy Strategy 2020–23, Switzerland has prioritised the protection of civilians. Switzerland promotes compliance with international humanitarian law by all parties to a conflict, including armed groups. It supports the civilian population on the ground and provides international organisations such as the OSCE, the UN and the EU with experts in civilian peacebuilding. These experts mediate in conflicts and help reconstruct the rule of law thereafter in order to restore security and confidence in state authorities. At the multilateral level, Switzerland works within bodies such as the UN General Assembly and the UN Security Council to help shape the framework for humanitarian efforts.

The protection of civilians and medical assistance for everyone, including on the battlefield, has been enshrined in the Geneva Conventions for over 150 years, and is a primordial priority of Swiss foreign policy. The following case illustrates this: After the 'Islamic State' group's defeat in 2018, Anna, a doctor in Mosul in northern Iraq, was charged with the 'crime' of having provided medical care to wounded fighters while the city was occupied by the terror group. Yet protecting and caring for the sick and wounded, including the military enemy, is a foundational principle of international humanitarian law. In Anna's and similar cases, certain counterterrorism measures are applied that violate this principle. Important as they are, these measure criminalise providing medical aid to certain groups, deeming it support for terrorism. In light of this, the FDFA works in such cases to ensure that it remains possible to provide medical aid to all, under all circumstances. 
UN Security Council: Open Debate on the protection of civilians in armed conflicts
On 25 May, Switzerland will be participating in the annual Open Debate of the UN Security Council on the protection of civilians in armed conflicts. UN member states not currently on the Security Council may also participate in open debates like this one. Switzerland heads, in New York, a Group of Friends that is composed of 27 states and focuses on this issue. As the group's representative, it is calling, in the context of the debate, for respect of international humanitarian law and the protection of civilians and persons no longer taking part in hostilities.

As Ambassador Pascale Baeriswyl, head of the Swiss Permanent Mission to the UN in New York, puts it: "It can't be stressed often enough: The civilian population pays far too high a price in armed conflicts. Whereas in the First World War, 9 out of 10 people killed were soldiers and only 1 in 10 were civilians, a century later, this ratio has been turned on its head. In 2018, more than 20,000 civilians were killed or wounded in six countries: Afghanistan, Iraq, Mali, Somalia, South Sudan and Yemen. Switzerland therefore calls on all parties to armed conflicts to fully comply with international humanitarian law's rules and principles, particularly those of humanity, distinction, necessity, proportionality and precaution."


The civilian population pays far too high a price in armed conflicts.
Ambassador Pascale Baeriswyl, Mission to the UN in New York
Against the backdrop of ongoing challenges, including COVID-19 in particular, the Group of Friends mentioned above has identified thematic areas that require immediate action in order to reduce the number of civilian casualties in armed conflicts:
Reducing attacks on densely populated areas
Preventing attacks on patients, medical personnel, medical facilities and transports in armed conflicts, as well as cyber attacks on medical facilities
Raising awareness of the link between armed conflict and environmental degradation as well as climate change, which affects civilian populations
In addition, Switzerland has been coordinating the Protection of Civilians Week since 2018. For the fourth time in a row, a Swiss initiative has prompted UN member states, UN agencies and NGOs to meet at the end of May to exchange experiences in and recommendations on the protection of civilians.  
Greater visibility
For decades, Switzerland has been reinforcing its reputation in the international arena as an impartial actor that promotes solidarity. With its candidacy for a non-permanent seat on the UN Security Council in 2023 and 2024, it is strengthening its engagement for peace and security in the world. This is urgently needed, as the consequences of armed conflicts are far-reaching. They change communities on the ground: migration, displacement and death on the battlefield age societies. The lack of access to medical care due to destroyed hospitals takes its toll on those who remain in the country. Opportunities to earn money dwindle, allowing poverty and crime to run rampant. Children and young people lack access to education and are left without prospects for the future. Last but not least, armed conflicts in former emerging countries such as Syria, Libya and Nigeria are wiping out the results of international cooperation.
The protection of civilians is firmly anchored in international humanitarian law. The political will to implement and enforce its principles is the most important prerequisite for preventing these tragedies, which also have a human side. As a non-permanent member of the UN Security Council, Switzerland will be in a better position to promote its interests. A peaceful international order is also important for the Swiss economy, because open markets with clear rules not only create prospects locally, but also contribute to prosperity in Switzerland. Thanks to its expertise and good offices – such as its protecting power mandates – Switzerland has the credibility and potential to contribute to the peaceful settlement of disputes between conflicting parties, for the benefit of the international community. Switzerland's seat on the Security Council will also strengthen the clout of its foreign policy and allow it to directly influence the substantive focus of the UN's work. Given the current geopolitical environment, having independent voices – such as Switzerland's – in the Security Council is more important than ever. They build bridges and are the "lubricant between world powers," as Federal Councillor Ignazio Cassis, head of the Federal Department of Foreign Affairs, put it. 
Peace and security: a priority of Swiss foreign policy
At the end of January 2020, after analysing the current state of the world and evaluating trends and developments that could become important in the future, the Federal Council defined four thematic focus areas in its Foreign Policy Strategy 2020–23 (FPS):
Peace and security
Prosperity
Sustainability
Digitalisation
The candidacy for a seat on the UN Security Council is at the forefront of the FPS, because with this seat, Switzerland can pursue its constitutional mandate to ensure a "just and peaceful international order" even more effectively. Locally and within the multilateral environment, Switzerland mediates and serves as a bridge-builder between conflicting parties. Here, Swiss foreign policy focuses on its good offices, its policies on security, human rights and migration, its humanitarian commitment and its science diplomacy.
The FDFA has drawn up thematic and geographical follow-up strategies derived from the FPS. They are structured along the lines of the four focus areas. This ensures that Switzerland's foreign policy activities are more effective, avoids any overlaps and harnesses synergies between the various federal offices involved and external partners.
The interaction between strategies is important to ensure Switzerland implements its foreign policy in a coordinated way in all regions of the world and presents a coherent and unified image.