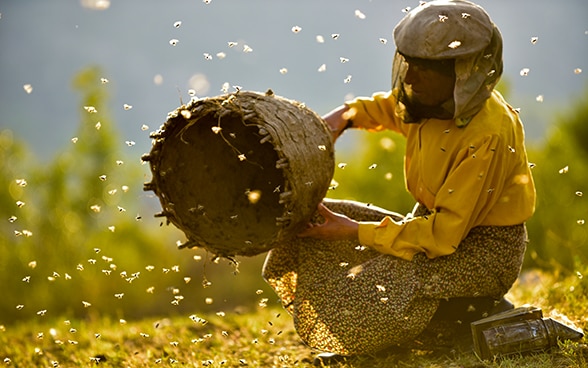 Hatidze Muratova and her frail elderly mother live alone in an isolated hamlet in the idyllic mountains of Northern Macedonia. While she depends on the sale of wild honey for her survival, Hatidze is careful to take only half of the honey, leaving the rest for the bees. In Honeyland, directed by Tamara Kotevska and Ljubomir Stefanov, this peaceful balance is upset when a large family moves in nearby and starts to exploit the hives commercially.
Hatidze, whose life the crew followed for three years, was discovered through the Nature Conservation Programme launched by the Swiss Agency for Development and Cooperation (SDC), which promotes environmental protection and the sustainable use of natural resources. The SDC project seeks to maintain agrobiodiversity, drawing on the knowledge and traditions of local populations. 
"We are delighted with this nomination!" says Ruth Huber, Head of Cooperation with Eastern Europe at the SDC." At the SDC, we have long been committed to environmental protection and the sustainable use of resources. I see this Oscar nomination as a validation of our work for the good of the local populations in our partner countries."
The powerful documentary, which has already received awards at several other festivals, has been nominated for Oscars in the categories Best International Feature Film and Best Documentary. It will also be shown this autumn in several Swiss cinemas.
Fingers crossed for Honeyland at the 92nd Oscar Awards ceremony on Sunday 9 February!