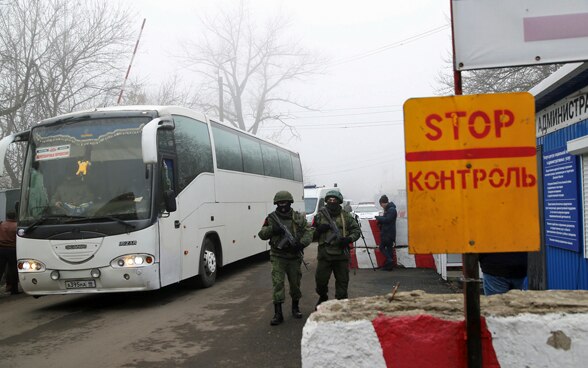 On 29 December 2019, more than 200 of detainees from the government-controlled and non-government controlled areas were released and handed over. Since for certain released persons legal proceedings still exist, the sides have committed to bring them to an end as quickly as possible and thus to free the persons from any criminal prosecution. Some of the detainees had been held since the outbreak of the conflict in eastern Ukraine in 2014. The exchange was the result of intensive negotiations in the Humanitarian Working Group within the Trilateral Contact Group, which consists of representatives from the Organization for Security and Co-operation in Europe (OSCE), the Russian Federation and Ukraine.
The Humanitarian Working Group is coordinated and led by Swiss Ambassador Toni Frisch and meets every second week in Minsk. In addition to negotiating the release of detainees related to the conflict, the working group also discusses other humanitarian challenges such as the key issue of finding and identifying missing persons, as well as improving civilian crossing points over the contact line.
The last large-scale exchange of over 300 detainees was negotiated under the aegis of the OSCE and took place on 27 December 2017. An additional exchange on 7 September 2019 also saw the transfer of a total of 70 detainees between Ukraine and the Russian Federation, which was not part of the negotiations in Minsk.
After almost two years in nearly deadlock, the OSCE has been able to negotiate a new exchange acceptable to all sides. Key humanitarian achievements were already agreed to in July 2019 – the enforcement of military disengagement in certain geographically restricted zones as well as the repair of the Stanytsia Luhanska bridge over the contact line, which has already made the daily crossing for around 10,000 people significantly easier.
The conflict in eastern Ukraine has dragged on for over five years, claiming the lives of over 13,000 according to UN estimates. Switzerland is committed to a peaceful solution to the conflict in eastern Ukraine. It promotes de-escalation and dialogue, mainly within the framework of the OSCE. Under its peace policy, in spring 2015 Swiss Ambassador Toni Frisch was seconded as coordinator to the Humanitarian Working Group as part of the Trilateral Contact Group's negotiations in Minsk.
---
Address for enquiries:
FDFA Information
Federal Palace West Wing
CH-3003 Bern, Switzerland
Tel.: +41 58 462 31 53
E-mail: info@eda.admin.ch
Twitter: @SwissMFA
---
Publisher: