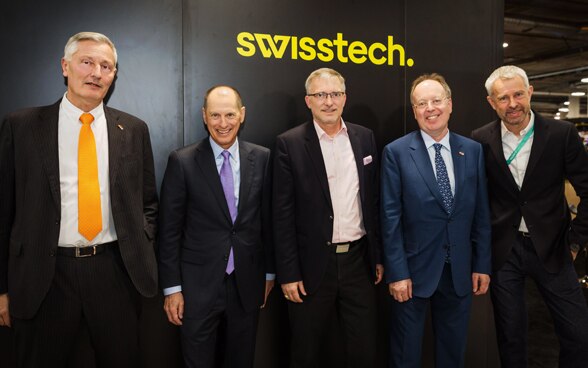 The SwissTech campaign is a public-private partnership under the leadership of Presence Switzerland. The campaign aims to raise Switzerland's profile as an innovative location for business and to promote the visibility of Swiss companies and universities abroad. At CES 2020, Switzerland is once again being represented by the SwissTech pavilion. This is located in Eureka Park, the vast start-up arena at CES where selected start-ups from all over the world get to showcase their ingenuity.
"At the world's largest tech show, we're using the SwissTech brand to highlight Switzerland as a world champion in innovation – young, creative and geeky. Switzerland is a global driver for the digital revolution, highly attractive to international tech firms, so we need to get this across at CES 2020 in Las Vegas," says Ambassador Nicolas Bideau, Head of Presence Switzerland.
The visibility of the SwissTech pavilion gives start-ups an opportunity to showcase their products and services – in areas such as artificial intelligence, robotics, blockchain and food tech – and to network with other players on the international technology scene, above all with investors, partners, customers and the media.
The highlight of the SwissTech pavilion is a stage show presenting Swiss innovations in health, food and sports tech. The products range from a virtual coach and food supplements using the latest innovations in the health sector to sensors that turn the body into a virtual instrument. The exhibiting start-ups and partners will also use the stage for their own presentations.
The strategic importance of participating in CES 2020 is underlined by the many Swiss start-ups present and the official Swiss delegation, comprised of FDFA Secretary General Markus Seiler, President of the ETH Board Michael Hengartner, President of ETH Zurich Joël Mesot, President of EPFL Martin Vetterli, CEO of S-GE Simone Wyss Fedele and Deputy Managing Director of digitalswitzerland Sébastien Kulling. 
"New technologies are a key issue in Swiss foreign policy. The SwissTech campaign positions Switzerland on new communication platforms to promote our interests at the heart of the technology world," points out Markus Seiler, Secretary General of the FDFA.

For images and further information about the SwissTech campaign and the Swiss pavilion at CES 2020, see www.swiss.tech

Further enquiries:
Ambassador Nicolas Bideau
Head of Presence Switzerland
nicolas.bideau@eda.admin.ch
Tel.: +41 79 667 69 15
---
Address for enquiries:
FDFA Communication
Federal Palace West Wing
CH-3003 Bern, Switzerland
Tel.: +41 58 462 31 53
E-mail: info@eda.admin.ch
Twitter: @SwissMFA
---
Publisher: