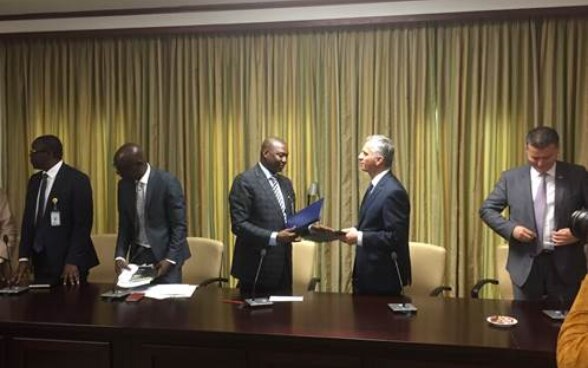 "The fight against corruption is one of Switzerland's priorities," noted Mr Burkhalter, who also met Nigeria's Minister of Foreign Affairs, Geoffrey Onyeama, and Vice President Yemi Osimbajo. After signing the letter of intent, Mr Burkhalter declared that this document confirmed the principle of returning stolen assets monitored by the World Bank. This monitoring is a legal requirement to ensure that the funds can indeed be returned to Nigeria and used, as set out in the agreement, to support social programmes to assist the people of Nigeria. Mr Burkhalter also noted that Switzerland is the first country to have returned a portion of Abacha's illicitly acquired assets. Ten years ago, Switzerland returned approximately USD 720 million to Nigeria.
Switzerland also intends to strengthen its trade ties with Nigeria, which is Africa's leading economic power. On Tuesday evening, Mr Burkhalter will open a consulate general in Lagos, Nigeria's economic capital. This consulate, which meets a long-standing demand by the export sector, will benefit Swiss companies wishing to set up offices or expand operations in Nigeria and is also in keeping with Nigeria's policy goal of encouraging job creation.
Mr Burkhalter and Mr Onyeama also signed a memorandum of understanding governing relations between the two countries, which will now hold regular talks on political, human rights and migration-related issues. The two ministers also discussed the region's security policy. Switzerland supports humanitarian efforts to help some two million people displaced by terrorist groups in the north of the country.
---
Further information:
Bilateral relations Switzerland – Nigeria
Address by Federal Councillor Didier Burkhalter

---
Address for enquiries:
Information FDFA
Bundeshaus West
CH-3003 Bern
Tel.: +41 58 462 31 53
Fax: +41 58 464 90 47
E-Mail: info@eda.admin.ch
---
Publisher: