"Our diplomatic relations were established in the middle of the Cold War"
2020 marks 50 years of diplomatic relations between Switzerland and Albania. For Adrian Maître, the Swiss ambassador to Tirana, relations before and after the fall of communism form two distinct periods. Fifty years on, Switzerland and Albania enjoy excellent relations which are continuing to grow stronger.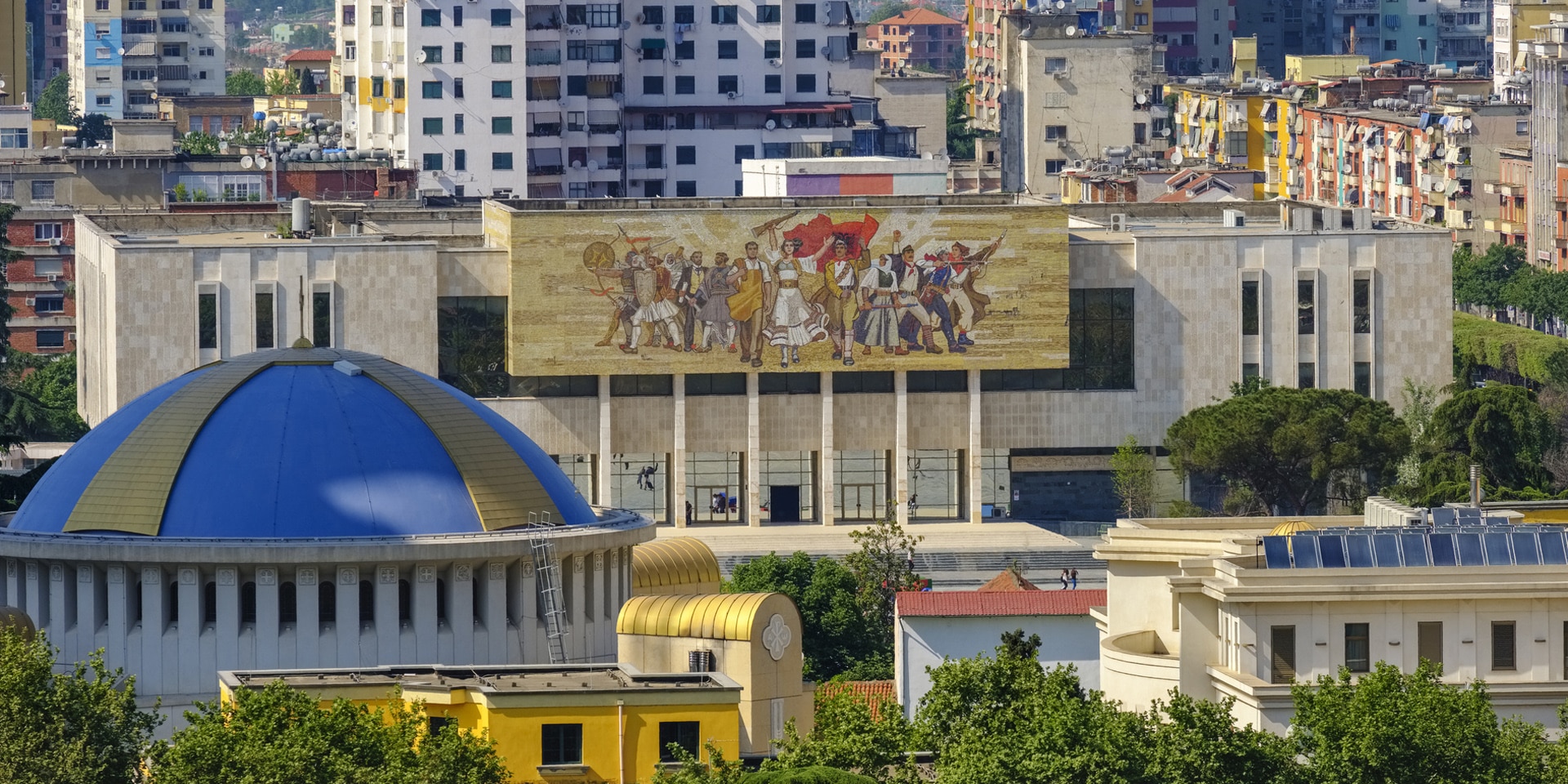 View of Tirana, the Albanian capital. © Keystone
Interview with Adrian Maître, Swiss Ambassador in Albania.
If you had to sum up these 50 years of diplomatic relations between Switzerland and Albania in five dates, what would they be?
I would single out these five dates as the most important: 
2 October 1970: Hans Keller, the very first Swiss ambassador presents his credentials to the Albanian authorities. Keller's extraordinary efforts and vision were instrumental in launching official relations between the two countries. What made this achievement so remarkable was that the diplomatic relations were established in the middle of the Cold War, in an atmosphere of distrust between East and West. 

2 May 1988: Swissair becomes the first Western airline to operate in Albania. 

August 1992: Albania overthrows the communist regime and puts in place its first democratically elected government. Both countries establish representative missions and Swiss development aid and cooperation begin. 

May 1997: The Swiss Cooperation Office, representing the SDC and SECO, is established to coordinate Swiss development cooperation in Albania. Switzerland's support was important in Albania's efforts towards a better democracy and European integration. 

31 March 2017: The first visit to Switzerland by an Albanian Prime Minister since the fall of communism. President of the Swiss Confederation Doris Leuthard received Prime Minister Edi Rama and two cooperation agreements were signed. The year 2017 was also important because it marked 25 years since the two countries had established their embassies.

The diplomatic relations were established in the middle of the Cold War and an atmosphere of distrust between East and West.
What does the 50-year anniversary mean for our countries today?
50 years may not seem like long, but Albania has seen major transformations in this time. There are two distinct periods in Swiss-Albanian relations: the period before and the period after the fall of communism. Since 1992, there have been a lot more exchanges, a broader range of cooperation between the two countries, and closer ties. It is not merely the duration that matters, but the fact that relations with Albania are growing and getting stronger. This is also thanks to the Swiss approach, which is about relations between the countries and peoples, not just political regimes or governments. 
Switzerland was one of the first countries to offer its support and assistance to Albania after the fall of communism, and this early friendship is still remembered. For us, this 50th anniversary is also important because it brings with it the question: what do we want to achieve, improve or expand on? For example, there is a lot of interest in expanding the two countries' economic and business relations. We have gone from humanitarian aid to cooperation, and will now hopefully move on to more economic ties and exchanges. 

50 years may not seem like long, but Albania has seen major transformations in this time.
What three words would you use to describe Swiss-Albanian relations and why? 
Cooperation. Partnership is the essential ingredient in our official relations, a willingness to work together, to coordinate and join forces to develop Albania's potential and contribute regionally and internationally. 
Small countries. Both Switzerland and Albania realise that their prosperity depends on good global networks, and are interested in and contribute to multilateral systems.  
Tourism and the Trans Adriatic Pipeline. A growing number of personal contacts, and a higher number of Swiss visitors and tourists have been recorded in recent years. There were least two direct flights connecting Albania with Swiss cities until COVID-19 disrupted these connections, which will hopefully resume shortly. In terms of economic exchange, the Trans Adriatic Pipeline (TAP) is a prime example of a Swiss-born idea with a positive impact on Albania's – and the region's – economic development. 

Both Switzerland and Albania realise that their prosperity depends on good global networks, and are interested in and contribute to multilateral systems.
How do Switzerland and Albania build trust? 
Building trust is easier thanks to the solidarity that Switzerland has shown all these years, especially in difficult moments for Albania. Switzerland is not only a reliable international partner, it is also the second biggest development cooperation partner for the small Balkan nation.
By sharing assistance and support, we aim to strengthen Albania's institutions – not to fix the problems ourselves, rather to enable the institutions to grow and function properly. Dialogue involving the authorities and all political actors – in true Swiss neutral style – is also helping to build trust. Not all that has to be said is said in public. A lot of frank discussions take place bilaterally.
Respecting the cultural and religious differences is key. For example, in 2020 we produced an embassy calendar that highlights a truly remarkable Albanian reality: religious harmony. Few people know – including in Switzerland – that Albania enjoys a high degree of harmony between at least five religious communities. The President joined us for the calendar launch and thanked us for publicising this important but little-known fact. 
Building trust is easier thanks to the solidarity that Switzerland has shown all these years, especially in difficult moments for Albania.
What current dossiers are you particularly proud of?
Decentralisation would have to be one. With just over 20 years of cooperation in the area of decentralisation, we have a built up a wealth of successful experiences in the area of local governance. This includes new statistical methods to support local governance. The Federal Statistical Office in Switzerland provided Albania's local authorities with technical assistance in this area.
Vocational education is another area where the Swiss model is inspiring a local, Albanian vocational model that is embracing a new relationship with the private sector. Schools are now working closely with businesses to run programmes that enable education and employment to go hand in hand. This is quite an achievement for a country where school was purely theory-based for many decades. 

What is your wish for Swiss-Albanian relations on the occasion of their 50th anniversary?
Looking back over 50 years of official relations, Switzerland and Albania remain positive and cooperative. Switzerland continues to be a dependable partner for Albania's democratisation and further development. We look forward to seeing Albania continue to build effective institutions that are trusted by citizens and the private sector. This is good not only for Albania's European integration but also for the Swiss private sector, and has economic benefits for both countries. 
We also look forward to more multilateral collaboration between Switzerland and Albania, for example within the UN Security Council, and in drawing lessons for better international coordination, response and preparedness in the face of the COVID-19 pandemic. 
Message from Ilir Gjoni, Ambassador of the Republic of Albania in the Swiss Confederation
Message in Albanian
Një nga cilësitë më të bukura të miqësisë së vërtetë është të kuptosh dhe të kuptohesh. Ne ja kemi dalë mbanë kësaj. Ky 50 vjetor jo vetem na jep mundësinë të shohim marrëdhëniet tona përmes lenteve të historisë, po çka është më e rëndësishme na jep mundësinë të përcaktojmë tonin dhe drejtimin për të ndërtuar, thelluar dhe zgjeruar më tej marrëdhëniet për vitet në vijim. Ky 50 vjetor është një mundësi për ne për të reflektuar mbi këtë udhëtim të përbashkët dhe për të parë me besim drejt të ardhmes. Pesëdhjetë vitet e kaluara kanë treguar se forcimi i miqësisë dhe bashkëpunimit mes Shqipërisë dhe Zvicrës jo vetëm që ka sjellë përftime konkrete për të dy popujt, por po ashtu ka kontribuar në stabilitetin e rajonit të BP, bashkëpunimin dhe zhvillimin në këtë rajon.
Realiteti është se përpjekjet e Shqipërisë për ndërtimin dhe konsolidimin e shtetit ligjor, për ndërtimin dhe fuqizimin e vendit nuk mund të ishin këto që janë pa mbështetjen e çmuar të Zvicrës dhe popullit zviceran që ka shoqëruar zhvillimet demokratike sidomos pas viteve '90. Ndihma dhe bashkëpunimi i qeverisë dhe popullit zviceran kanë luajtur një rol vendimtar në konsolidimin e institucioneve demokratike. Përmes Strategjive të njëpasnjëshme për Zhvillim dhe programeve të ndihmës që janë zbatuar përmes këtyre Strategjie, vendi ynë ka mundur të forcojë institucionet demokratike, parlamentin, pushtetin lokal si dhe të përmirësojë ndjeshëm inftrastrukturën, si atë energjitike, rrugore etj.
Përtej Strategjive për Zhvillim, lidhja mes dy popujve gjen shprehjen më të qartë sidomos në momente të vështira. Ne nuk mund të rrimë pa përmendur ndihmën e mënjëhershme e bujare të popullit e qeverisë zvicerane duke ju gjendur pranë popullit shqiptar pas tërmetit të nëntorit 2019 dhe për të cilën ne do të jemi gjithmonë mirënjohës. E njëjta gjë mund të thuhet edhe për mbështetjen që qeveria zvicerane dha për institucionet tona të shëndetësisë gjatë periudhës së tanishme të pandemisë.
Kultura politike zvicerane që bazohet në dialog, ndarje të pushteteve, vendimmarrje konsensuale, pjesmarrje e gjërë politike e popullit, ofron receta të vlefshme për të ecur përpara në konsolidimin e lirive, paqes e stabilitetit sidomos në rajonin tonë të Ballkanit Perëndimor. Modeli aktual zviceran i cili buron nga një sistem dikur i një shoqërie të fragmentuar me një larushi gjuhësh, kulturash dhe feshë, është një model që parapëlqehet dhe ëndërrohet nga vende si Shqipëria dhe të tjera të rajonit tonë.

Pa dyshim një vektor bartës i vlerave të të dyja vendeve dhe një pasuri e çmuar për të dyja vendet është komuniteti i madh shqiptar që jeton e punon në Zvicër. Nuk ka dyshim se kontributi i diasporës shqiptare në këtë marrëdhënie është i patjetërsueshëm dhe ka shërbyer e shërben si urë lidhëse mes dy popujve dhe vendeve tona. Komuniteti shqiptar është një komunitet i mirëintegruar që sjell një vlerë të shtuar në shoqërinë zvicerane, por dhe çka është tepër e rëndësishme edhe përcjell ndjeshëm vlerat e Zvicrës në shoqërinë tonë. Ne i jemi mirënjohës komunitetit shqiptar për kontributin që jep për lartësimin e imazhit të Shqipërisë dhe shqiptarëve ku përmes punës, mundit, vlerave që mbart, përcjell në shoqërinë e këtushme ato vlera të spikatura të shqiptarëve për të cilat ne ndihemi krenarë. 
Le ta festojmë të gjithë këtë 50 vjetor miqësie e të punojmë bashkarisht për 50 vitet e ardhshme. 
Ilir Gjoni, Ambasador i Republikës së Shqipërisë në Konfederatën Zvicerane
Message in English
One of the best qualities of a true friendship is to understand and be understood. We have managed to achieve this. This 50th anniversary is an opportunity to look back over our relationship, and more importantly to confidently set a new rhythm and course, in order to expand our relations in the decades to come. Over the past 50 years, the growing friendship and cooperation between our two countries have both brought concrete benefits for the people of Albania and Switzerland, and contributed to stability, cooperation and development in the Western Balkans. 
The reality is that Albania's efforts to build and consolidate the rule of law, and to build and strengthen its economy would not have been as successful if not for the invaluable assistance of Switzerland and the Swiss people, which have supported Albania's democratic development especially since the 1990s. The support and cooperation of the Swiss government and people have been instrumental in strengthening democratic institutions in Albania. Through consecutive development strategies and support programmes, our country has succeeded in strengthening its democratic institutions, Parliament and local government and has considerably improved its infrastructure. 

Beyond the development strategies, the close ties between our people are especially apparent in difficult times. We will never forget Switzerland's immediate and generous support and solidarity in the aftermath of the November 2019 earthquake. We will always be grateful to the Swiss people. The same goes for the Swiss government's support to the Albanian health authorities during the current pandemic. 

The Swiss political culture based on dialogue and compromise, power sharing, consensual decision-making, and broad political participation by the people, sets a valuable example and provides useful lessons for the pursuit of freedom, peace and stability, in particular in our Western Balkan region. The Swiss model, stemming from a once fragmented society and with a plurality of languages, cultures and religions, is valued and aspired to by Albania and other Western Balkan countries. 

The Albanian community living and working in Switzerland is undoubtedly a very important vector for the values of both nations. There is no doubt about the immense contribution of the Albanian diaspora in this relationship. Albanians in Switzerland have been and continue to serve as a bridge between our countries. The Albanian community in Switzerland is well integrated and thus contributes added value to Swiss society. Importantly, it is also a conveyer of Swiss values in our societies. We are grateful to the Albanian community in Switzerland for its contribution to the good image of Albania and Albanians. Through their hard work, determination and principles, they embody distinct Albanian values that make us proud. 
Let us celebrate this 50th anniversary of friendship and welcome in the next 50 years of successful cooperation. 

Ilir Gjoni, Ambassador of the Republic of Albania in the Swiss Confederation