Humanitarian aid, cooperation and sustainability: two stories from Sudan
The world watched this September as devastating floods hit Sudan. Back in Switzerland, Yvonne Josy Müller tells us of her experiences working as a water and environmental sanitation expert for the Swiss Humanitarian Aid Unit. We also talk on durable solutions – a key concept accompanying Switzerland's activities in the region – with Amir Hamid, Humanitarian Aid Adviser in Khartoum.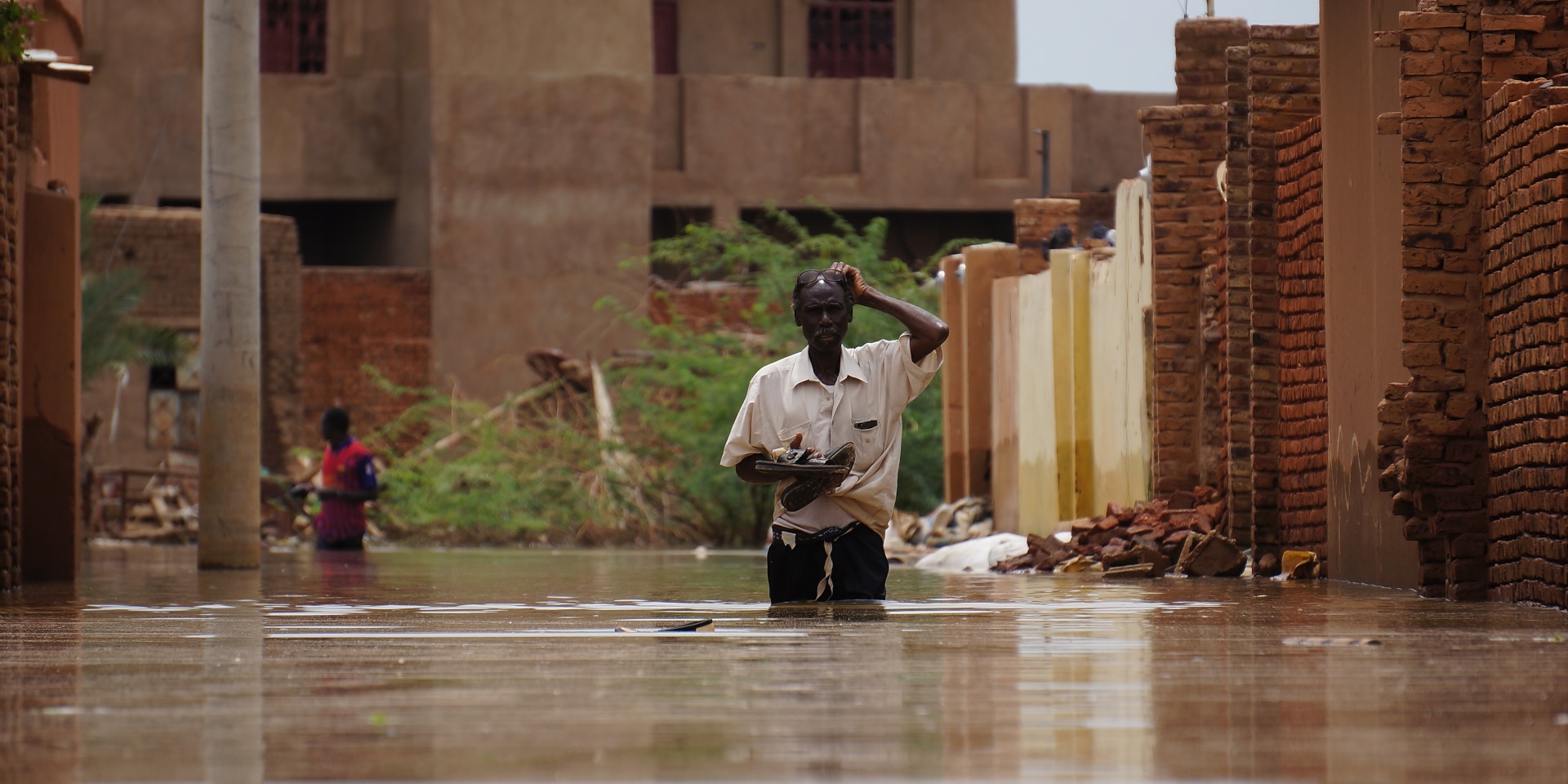 The severe flooding caused by seasonal rainfall in September 2020 was the worst for 30 years and many people lost their lives. © FDFA, Credits Mudathir Abd Alhameed
It is 4pm when we connect with Khartoum and Amir Hamid has been waiting for our call. He explains that to understand what is happening now in Sudan, we need to take a look at the recent past.
Humanitarian crisis: from the peripheries to the capital
For years, Swiss Humanitarian Aid has been working in Sudan with the aim of saving lives and protecting the victims of armed conflicts and natural disasters. "It's important to bear in mind that Sudan, which has already been the scene of numerous conflicts, particularly in the Darfur region, has lost South Sudan, which gained independence in a referendum in 2011, and with it about 75 percent of its oil resources. From this shock the country has not yet been able to recover," explains Amir Hamid.

Political conflicts, rapid depletion of natural resources, a soaring economic crisis – worldwide highest level of inflation only second to Venezuela and health as well as political crises have exacerbated the humanitarian situation. "In recent years, the crisis has worsened dramatically. The number of people suffering from the consequences of the conflicts and the economic crisis is constantly increasing. At the same time, the humanitarian crisis, previously concentrated in the western and south western periphery, has now reached new regions in East and central Sudan, including the capital Khartoum" explains Mr Hamid. Before the recent floods, 9.3 million people were affected by the humanitarian crisis, according to the United Nations (UN). The most vulnerable are internally displaced people who have suffered from the political instability and power struggles before. Around 2.5 million of them live in areas prone to natural disasters (drought, floods, desert locusts, etc.). In total, Sudan hosts close to 1.1 million refugees and asylum seekers from neighbouring countries.

Humanitarian intervention with lasting impact
The severe flooding caused by seasonal rainfall in September 2020 was the worst for 30 years and many people lost their lives. Switzerland responded by allocating one million Swiss francs to the Sudan Humanitarian Fund, a pooled fund managed by the UN which provides funding for emergency operation. Switzerland also sent two experts – Yvonne Josy Müller and Gilbert Monnard – to assist the affected population. "The exceptional extent of these floods has destroyed entire villages. Impressive pictures of destroyed houses, beds drowned in mud and ruined clothes showed how people had to flee their homes quickly without being able to save their belongings," explains Yvonne Müller. The basic need following such a disaster is clear: people need a safe place to live. "Talking to locals, it quickly became clear that a functioning healthcare system, access to sanitation, and drinking water are of central importance.
Yvonne Müller knows from her experience of numerous humanitarian aid missions how important urgent preventive measures are to prevent the spread of disease following natural disasters. This is essential in a country where an estimated 70 percent of the population is affected by malaria especially during the period of seasonal rainfall when mosquitoes are more prevalent. Many different tropical diseases as well as the risk of a cholera outbreaks are fast increasing after such flood events. Additionally, the health risks for the population has been exacerbated by the global COVID 19 pandemic. "When we arrived on site, we first try to get an overview, to ascertain the number of people affected and the scope of the humanitarian assistance given. During emergencies, good coordination with all different actors such as the Sudanese Red Cross or UN agencies is challenging but essential in order to understand where the needs lie and where Switzerland can provide concrete long-term assistance," explains Ms Müller, adding that a positive reception by the local authorities and communities was also decisive. The Sudanese government is a transitional government that communicates its needs transparently and sees international cooperation as a reliable partner in managing these numerous crises, even though administrative and other impediments are still a huge challenge for the humanitarian interventions.
Two key words: development and sustainability
Sudan is one of the countries where Switzerland provides the most humanitarian aid. With a contribution over 10 million Swiss francs in 2020, Switzerland supported medium and long-term projects as well as the communities most affected by the floods. Swiss interventions mainly focus on food security (around 70percent of agricultural land is thought to have been destroyed by the floods), migration and the protection of the most vulnerable to help internally displaced persons in particular. "In addition to humanitarian aid, which supports people affected by natural and man-made disasters, Switzerland intends to become increasingly involved in projects that help improve the living conditions of people on the ground in the long term. Looking at the positive examples from Somalia and Ethiopia, it is clear that combining swift humanitarian aid with long-term development cooperation projects is a recipe for success," explains Amir Hamid.
Assisting the dynamics of political change in Sudan is also a central aspect of sustainable development cooperation and of the renewed political support by Switzerland. Building on its long tradition of cooperation for the resolution of Sudan's internal conflicts Switzerland will increasingly engage in Sudan to support the challenging societal process of reconciliation and dealing with a past marked by violence and political marginalisation. It thus commits to supporting the Sudanese people on this difficult path towards a more inclusive and democratic political process that respects human rights. "In December 2019 thousands of Sudanese, majorly women and youth, took Sudan's streets to peacefully protest against the economic hardship and oppression under the former regime of President Omar al-Bashir, who had ruled the country for the past thirty years", remembers Mr Hamid. "Although the new transitional, civilian-military led government under Prime Minister Hamdok is committed to end the Sudan's protracted conflicts and to reform its shattered economy, the new government struggles to overcome the massive burden of the past".
The signing of the Juba peace agreement on 3 October 2020 between the Sudanese government and rebel groups is an important step for the country. Yet in order to connect with the young population with the growing desire for freedom, dignity and justice, sustained international cooperation is essential. Although it is a government in the making and is not yet in a position to cope with such a major crisis on its own, a lot of progress has been made. "The government has established an Emergency Operations Centre to coordinate the response to the crisis together with international organisations and civil society. We believe this is an example of how crises can be managed in future by identifying the needs of the population in a transparent way and adopting instruments to respond to them, including through cooperation," Mr Hamid continues. Yvonne Müller also mentions the important efforts of civil society, consisting largely of young people who organise themselves independently to help those in need. "We learnt that often the most help given to the affected families are by their neighbours, especially the younger generation, by building protection walls, clear their homes and providing food and water. Many families depend on the generosity of their host communities," says Ms Müller.
Covid-19: Switzerland donates 1,64 million medical masks for humanitarian and health staff in Sudan
Covid-19 is also a major concern in Sudan. Switzerland donated 1,64 million medical masks to the UNHCR in Sudan. The material will help to protect aid workers and healthcare staff who are providing assistance to the most vulnerable during these difficult time.