«We have tripled our workforce in Ukraine since 2015»
To carry out its humanitarian demining activities, Switzerland finances and works closely with a number of partners, including the Fondation suisse de déminage (FSD). Active in Ukraine in particular, the Foundation provides direct support to the local population by destroying anti-personnel mines and unexploded ordnance. Interview with its director, Hansjörg Eberle.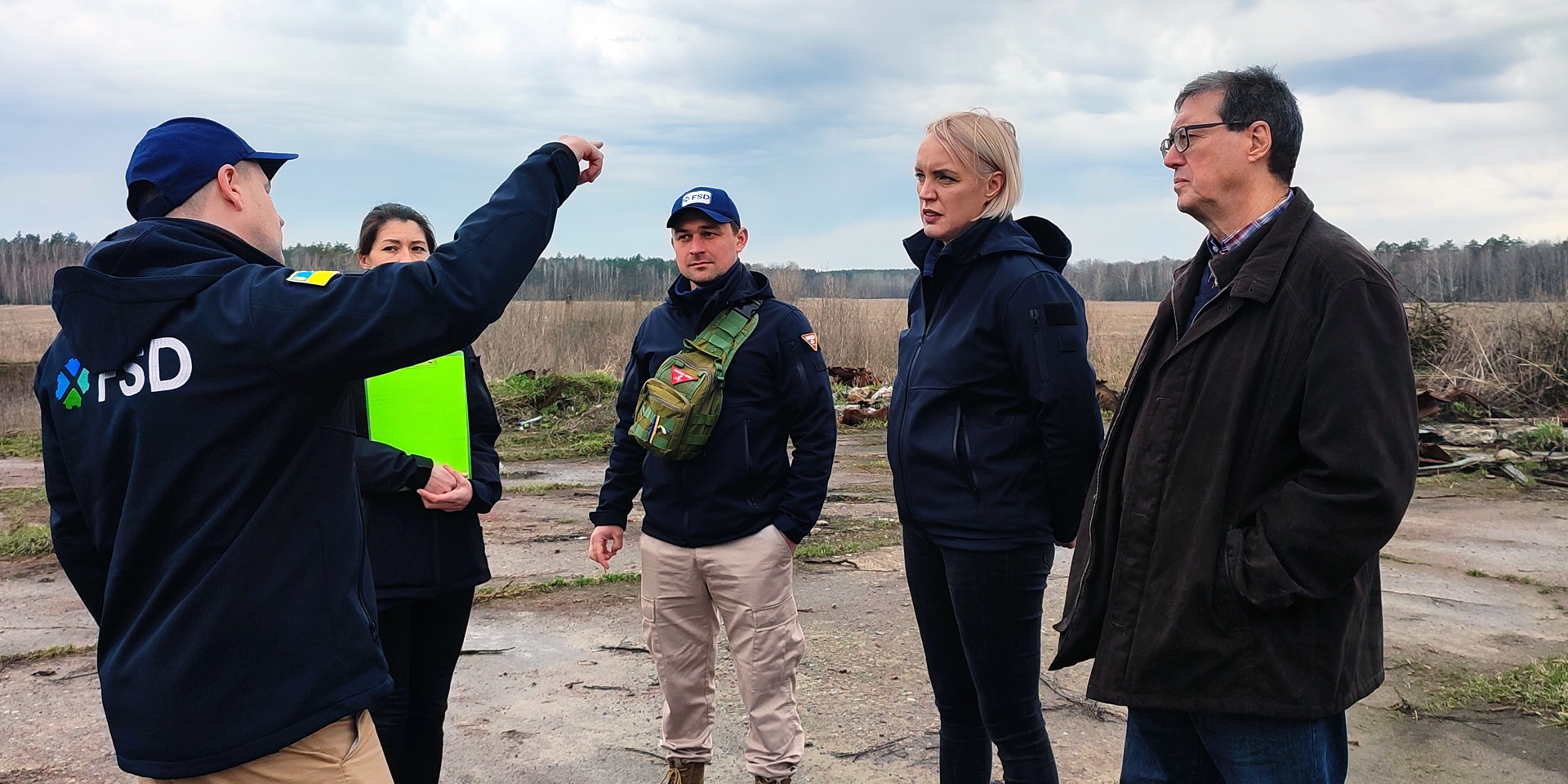 An FSD employee explains the situation in Ukraine to Director Hansjörg Eberle (right) and his team. © FSD
How does the FSD operate on the ground? 
Our teams first conduct surveys to identify contaminated areas, then locate and neutralise unexploded mines and munitions. Over 90% of our deminers are recruited directly from the affected areas and trained by our specialists on the ground. This enables us to offer local economic opportunities while ensuring that our activities meet the highest standards of quality and safety. Being Swiss is an asset for the FSD – in particular it facilitates our access to affected countries.
... particularly in Ukraine?
The FSD has been accredited and active in Ukraine since 2015, which enabled us to respond quickly following the outbreak of the conflict in February 2022. We have tripled our workforce and are currently carrying out mine action operations in the Chernihiv, Kharkiv and Mykolaiv regions. The context is particularly complex because of the scale of the contamination, the variety of weapons and munitions used, and the fact that teams have to work in close proximity to combat zones. The FSD works in close coordination with local and national authorities – in particular to determine priorities – as well as with other demining organisations. 
What advantages do new technologies offer?
There is as yet no miracle solution that can neutralise explosive devices automatically and with the same reliability as a deminer. But new technologies already make it possible to locate and map contaminated areas more quickly. The FSD uses drones, high-resolution satellite images and remote-controlled machines equipped with metal detectors. We've also been working for seven years on the development of a ground-penetrating radar drone as part of a very promising project by the Urs Endress Foundation, based in Switzerland. We're also in regular contact with the EssentialTech Centre at EPFL.